Plane crashes into homes near Santee, California, causing inferno and killing at least 2 (VIDEOS)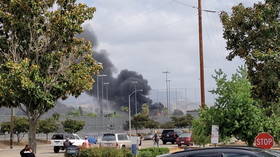 A small aircraft has crashed near a high school in Santee, California, just north of San Diego, hitting several buildings and setting some ablaze. At least two people were killed and another two injured, fire officials said.
The plane, a twin-engine Cessna C340, crashed down onto a residential street in Santee, a suburban area of San Diego County, early on Monday afternoon. A fire department spokesman told local media that at least two people were confirmed dead in the crash so far, though said that toll could rise, and added that two people had been taken to hospital for treatment. Their current condition is unknown.
The spokesman described the scene as "brutal," and said that it will take some time to determine how many more people died. It is unknown how many passengers were on the plane, but the official described the crash as "unsurvivable."
The cause of the crash remains under investigation, and city officials said the debris field spans approximately one residential block.
Footage from the scene suggests that at least two buildings were seriously damaged in the crash, which occurred just blocks from a high school.
All the school's students were reported safe, though lockdown measures were briefly put in place on campus. Meanwhile, photos shared on social media showed a devastated crash site, and a thick column of black smoke rising into the air.
As crews extinguished the burning buildings, Santee fire officials said that a UPS truck and two homes were nearly destroyed in the incident. Two people inside one of the dwellings sustained burn injuries, according to fire chief John Garlow, while another fire official noted that two or three other houses were damaged. Power was cut off from at least 10 homes as responders worked the scene, though the fires are now extinguished.
UPS later confirmed to local media that one of its trucks was involved in the crash, and that the driver was among the two confirmed fatalities.
"We are heartbroken by the loss of our employee, and extend our deepest condolences to his family and friends. We also send our condolences for the other individuals who are involved in this incident, and their families and friends," Steve Nagata, a company spokesman said in a statement.
San Diego County Board of Supervisors Chairman Nathan Fletcher said the county's Office of Emergency Services had been activated and is "ready to provide any needed support to the city of Santee."
The American Red Cross set up a temporary evaluation site for people injured by the crash or fires at a YMCA in Santee, according to city officials.
The incident occurred less than 15 miles from the scene of a devastating 1978 crash, in which a Boeing 727 collided with a Cessna 172 light aircraft over North Park, San Diego. Over 140 people, including everyone on board both planes, were killed in what remains the deadliest air disaster in California history.
In 2018, two people and a dog were killed when a Cessna 182 Skylane nosedived into a storage yard in Santee.
Think your friends would be interested? Share this story!
You can share this story on social media: