Twitter accused of 'de-verifying' DeVito for supporting Nabisco strike after beloved actor briefly loses checkmark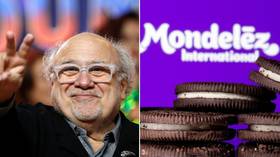 Danny DeVito's Twitter handle lost its verification checkmark for several hours after he expressed his solidarity with the striking workers of snacks producer Nabisco. Many suspect the two events must have been connected.
Workers of several Nabisco plants in three states walked off the job last week after talks on a new contract between the BCTGM International Union and Nabisco parent company Mondelez International failed. DeVito became one of the most prominent supporters of the striking Oreos makers, when he tweeted on Wednesday: "NO CONTRACTS NO SNACKS", backing the workers' demands.
On Thursday pro-labor news outlet 'More Perfect Union' drew public attention to the fact that DeVito's verification status had changed after the tweet.
There was no indication that the tweet and the loss of the checkmark were connected. Nevertheless the implication that the Silicon Valley giant was retaliating for anti-corporate speech was endorsed by many commenters.
Some noted that the 'de-verification' obviously did the opposite of obfuscating his expression of support for the striking workers, as DeVito's name trended on Twitter.
Some fans of 'It's Always Sunny in Philadelphia' turned to his performance in the show to imagine how DeVito would react to Twitter's offer to give him back his blue checkmark. The actual events probably played out differently, but the checkmark indeed returned soon to where it belonged.
DeVito's politics may be exemplified by his support of Bernie Sanders. The actor endorsed the corporations-wrangling Vermont senator for president in both the 2016 and the 2020 presidential elections.
If you like this story, share it with a friend!
You can share this story on social media: