'Active bomb threat investigation': Evacuations on Capitol Hill after driver claimed to have EXPLOSIVES in truck (VIDEOS)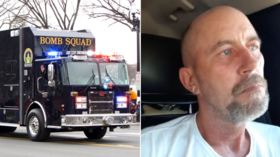 US Capitol Police evacuated an area around the Library of Congress on Capitol Hill after a driver pulled up outside and claimed to have a bomb in his pick-up truck, the police chief said. He has since surrendered to officers.
On Thursday, a security alert was raised on Capitol Hill, Washington as staff were told to evacuate buildings and reports emerged that police were investigating a possible explosive device in a pickup truck. In a tweet, US Capitol Police said they were "responding to a suspicious vehicle near the Library of Congress" and urged people to stay away from the area.
Police chief Tom Manger told reporters close to the scene that at 9:15 a.m. local time a man in a black pick-up truck drove right up to the Library of Congress building and claimed to have an explosive device in the vehicle, before displaying what appeared to be a detonator. Negotiations were conducted with the driver to find a "peaceful resolution", Manger said.
"We don't know what his motives are at this time," the police chief added.
Footage filmed at the scene later showed the suspect emerge from the vehicle with his hands above his head and surrender to police.
Earlier, an unverified image taken outside the Library of Congress appeared to show the driver still in the vehicle, with dollar bills strewn on the ground outside the truck.
The suspect also allegedly posted a now-deleted livestream filmed while sitting behind the driving seat inside the parked vehicle, in which he addressed US President Joe Biden and claimed to have a number of bombs. Part of the footage appeared to show what looked to be a gas tank, plastic explosives and several large tubs of loose change in the truck. He said the alleged explosives in the truck were rigged to only be detonated by a loud enough noise, such as the windshield of the truck being shattered by gunshots.
The man also alleged that there were four other explosive devices in undisclosed locations, claiming that others had transported them separately.
Facebook subsequently locked the account of a user called Ray Roseberry after the 30-minute livestream.
Staff in The Cannon House Office Building were among those told to evacuate earlier Thursday. An order, shared online by Forbes reporter Andrew Solender, directed staff to relocate to Longworth House Office Building using underground tunnels.
Footage shared online showed scores of law enforcement vehicles, including specialized Emergency Response Team trucks, heading into the restricted area. In TV footage, police were seen cordoning off the area, with barriers raised to restrict access.
Think your friends would be interested? Share this story!
You can share this story on social media: