NIH director walks back call to mask up around kids AT HOME after backlash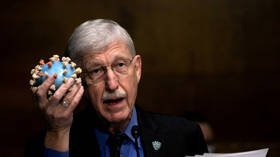 National Institutes of Health Director Francis Collins has hastily walked back a call for parents of unvaccinated kids to wear masks even at home after massive backlash on social media demanding evidence for the practice.
After Collins' Tuesday morning appearance on CNN's New Day was widely shredded on social media, the NIH director took to Twitter to issue a clarification.
Also on rt.com
National Institutes of Health director endorses customers, and possibly flyers, showing proof of vaccination before service
He wasn't claiming parents needed to wear masks around their offspring at home, he insisted – but "vaccinated parents who live in communities with high Covid transmission rates" should wear masks in "public indoor settings" in order to "minimize risks to their unvaccinated kids."
While Collins insisted he had "garbled" the initial message, he seemed very much aware on CNN that what he was saying would be objectionable to some parents. "I know that's uncomfortable, I know it seems weird," he clarified, before chiding reluctant parents that wearing masks at home is "the best way to protect your [unvaccinated] kids."
"The recommendations are for kids under 12 that they avoid being in places where they might get infected, which means recommendations of mask wearing in schools and at home," Collins said in the original CNN segment. "Parents of unvaccinated kids should be thoughtful about this and the recommendation is to wear masks there as well."
The NIH director's initial statement had triggered a cascade of eyerolls as viewers wondered why they should wear masks in their own homes, around their own children. Several users sarcastically wondered why confidence in vaccines or the experts dispensing them might be on the decline.
Collins' latest revision didn't go over well either, somehow managing to infuriate both the militant maskers and their bare-faced nemeses.
Others chided Collins and his fellow health authorities for deluging Americans with mixed messages. The Centers for Disease Control (CDC) last week reversed guidance regarding the need for fully vaccinated people to wear masks, and acknowledged that a recent study found three out of four cases of the much-hyped Delta variant were in vaccinated individuals.
Several told Collins that he had gotten his facts right the first time regarding the need to wear a mask around the unvaccinated, if the government's recent guidance was any indication.
Indeed, former White House coronavirus adviser Deborah Birx made waves last August when she suggested that Americans in "multigenerational households" in areas with outbreaks put aside family togetherness in favor of the mask, and she wasn't even the first to make the suggestion.
Local officials in Miami and Miami-Dade County in Florida called for mandatory mask orders that would extend inside the home, while Broward County (also in Florida) also adopted (and later rescinded) a mask mandate extending into the home.
Also on rt.com
Arkansas' Republican governor lambasted after saying he REGRETS law banning mask mandates in state
Like this story? Share it with a friend!
You can share this story on social media: