'Save our democracy': Texas Democrats RUN AWAY to Washington in bid to block state voter reform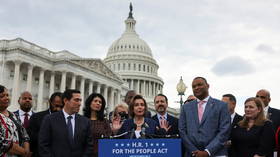 Seeking to deny quorum to the Texas state legislature and block a bill they called "voter suppression," Democrat lawmakers piled into a plane to Washington, DC and sought aid from the Biden administration.
"My Democratic colleagues and I are leaving the state to break quorum and kill the Texas voter suppression bill," James Talarico, who represents District 52 in the state House, tweeted on Monday afternoon. "We're flying to DC to demand Congress pass the For The People Act and save our democracy."
In a statement, the party said it was "once again making history" by walking out to break the quorum "in defense of voting rights." Democrats seek to block "anti-voter bills" HB3 and SB1, which are supposed to be considered in the special session called by Governor Greg Abbott.
Described by the Republicans as "relating to election integrity and security, including by preventing fraud in the conduct of elections," the proposed bills would require identification for voting by mail, prohibit unsolicited mail-in ballot applications, criminalize interference with election observers, and ban drive-through voting. Some or all of the measures that would be prohibited were introduced by Democrat jurisdictions last year, citing the Covid-19 pandemic.
Democrats have argued the proposals amount to "suppression" of their voters, who they say are disproportionately minorities. Republicans say they are intended to prevent voter fraud. Both have pointed to the case of Hervis Rogers, a convicted felon who was recently arrested and charged with illegally voting while he was on parole.
Also on rt.com
Texas man who famously waited hours to vote in Democratic primary faces up to 40yrs in prison for illegal voting
A KXAS-TV reporter shared online photos he was sent by one of the Democrats, showing the lawmakers on a bus to the Austin-Bergstrom International Airport, and then inside the charter plane they were taking to Washington.
The photos showed cheerful Democrats smiling and flashing signs – and not wearing face masks, in apparent violation of a Biden administration mandate, which did not go unnoticed.
One of the photos from the bus showed the lawmakers bringing along a case of beer, for which they were mocked by a spokesman for the Republican speaker of the house.
Democrats walked out "in an attempt to stall election integrity legislation," Speaker Dade Phelan said in a statement, saying that the move will "put at risk state funding that will deny thousands of hard-working staff members and their families a paycheck, health benefits, and retirement investment so that legislators who broke quorum can flee to Washington, DC in private jets."
The House "will use every available resource under the Texas Constitution and the unanimously passed House Rules to secure a quorum," Phelan added. The last time Democrats left the state – crossing into Oklahoma in 2003 – state troopers were sent to detain them.
While this isn't the first Democrat walkout, it is the first time they've gone all the way to Washington. Appealing to the federal capital fits into the overall strategy of the party to try and to pass federal election legislation, which would make many of 2020's improvised rules permanent.
President Joe Biden is scheduled to speak on the topic in Pennsylvania on Tuesday. Meanwhile, Vice President Kamala Harris is fundraising off the Texas stunt, urging Americans to donate to the Democrats in "the fight to protect and expand the right to vote." Ironically, on Sunday she argued that "our democracy is stronger when everyone participates" – but apparently referred to elections, not state legislature sessions.
A number of US states run by Republicans have moved to pass laws regulating election procedures, after a number of new practices were rolled out in 2020 citing the Covid-19 pandemic. GOP lawmakers call them voter integrity laws, while Democrats claim they are voter suppression, and also racist. Biden's Department of Justice last month sued Georgia over its voter reform bill, alleging much of it was "racially motivated."
Also on rt.com
Biden DOJ sues Georgia over 'racist' voting law, says it will prosecute 'threats' against election workers US-wide
Think your friends would be interested? Share this story!
You can share this story on social media: