Pentagon cancels $10bn 'JEDI' cloud-computing contract with Microsoft amid Amazon dispute over deal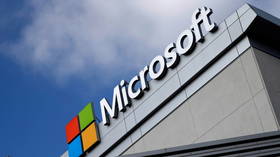 The US Department of Defense has canceled the £10 billion-dollar cloud-computing contract it awarded to Microsoft in 2019 that sparked a legal battle with Amazon. The Pentagon said it would rebid a multi-vendor contract.
The Joint Enterprise Defense Infrastructure Cloud (JEDI) contract, part of the Pentagon's modernization drive and worth up to $10 billion, was originally awarded to Microsoft two years ago.
However, just a month later, the tech giant was hit by a lawsuit filed in the US Court of Federal Claims by Amazon, Microsoft's main competitor for the contract. Amazon claimed that then-US president Donald Trump's apparent bias against its CEO Jeff Bezos meant the contract had gone to Microsoft.
Also on rt.com
Amazon files suit challenging Pentagon 'war cloud' contract with Microsoft, may argue Trump 'meddled' in process
In a statement on Tuesday, the Pentagon said that, "due to evolving requirements, increased cloud conversancy, and industry advances, the JEDI Cloud contract no longer meets its needs."
Instead, the Department of Defense will tender a new multi-vendor contract dubbed the 'Joint Warfighter Cloud Capability'. It said that only Amazon and Microsoft were "capable of meeting the department's requirements," but added that it would be conducting market research to see if other potential vendors could also meet its needs.
Also on rt.com
Amazon wants to 'depose' Trump over losing $10 billion Pentagon contract
In April, Amazon was told it could proceed with its claim, as a Federal Claims Court judge refused to throw the case out as requested by both the government and Microsoft. Judge Patricia Campbell-Smith's ruling meant Amazon could potentially seek legal testimony from Trump and former defense secretary Jim Mattis.
Just a month earlier, the Pentagon had warned it would reassess JEDI's future if the court did not grant its motion to disregard Amazon's bias claims.
Think your friends would be interested? Share this story!
You can share this story on social media: