3 dead after driver plows into at least 8 pedestrians near San Diego City College – police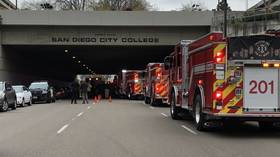 Three people have been killed and several more injured after being struck by a car in an underpass at San Diego City College in California on Monday, local police have said. One person has been arrested.
The driver has been arrested on suspicion of driving while impaired, San Diego Police Department Chief David Nisleit said.
The man is reported to be a 71-year-old who drove a Volvo station wagon, and was detained by police after identifying himself to officers.
Three people died from their injuries at the scene, San Diego Fire Department chief Colin Stowel told reporters. A further six people have been hospitalized.
The incident was reported just after 9am local time at the 1400 block of B Street in a tunnel that runs under the college. Several medics and around 60 firefighters attended the incident, according to San Diego Fire-Rescue.
Stowel described the incident as "tragic" and said it "impacts all of us," while praising the emergency services personnel involved in the response.
Local media report that the scene of Monday's incident is frequented by homeless people, who shelter along the sidewalks of the tunnel.
Local resident Ronnie Williams, who was under the bridge at the time of the incident, told News8 that he heard a "bang" and saw the driver hit "two or three tents." He said the car then plowed into up to five more tents, before Williams himself was also struck by the vehicle, sustaining a minor leg injury.
Think your friends would be interested? Share this story!
You can share this story on social media: