WATCH: White House abruptly cuts live feed after Biden says 'happy to take questions' at virtual event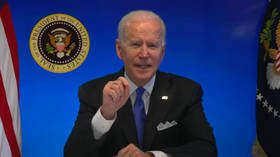 US President Joe Biden said he would be "happy" to field live questions at the tail-end of a virtual event, but was swiftly cut off when the White House inexplicably dropped the video feed, leaving some viewers bewildered.
"I'd be happy to take questions if that's what I'm supposed to do, Nance. Whatever you want me to do," Biden said to House Speaker Nancy Pelosi as the Democratic "Virtual Issues Conference" wrapped up on Wednesday night. But after a brief pause, the feed was brusquely taken offline.
While Biden appeared somewhat confused about whether a live Q&A was in store for the event, critics have suggested the White House ended the feed to keep him from ad-libbing his answers, as he's been prone to gaffes during unscripted – and sometimes scripted – statements in the past.
Biden addressed fellow Democrats for Wednesday's virtual sit-down, co-hosted by Speaker Pelosi, discussing issues ranging from the Covid-19 pandemic and the vaccine rollout, as well as the economy and how the party can "restore faith" in the US government.
Also on rt.com
Biden 'accepts' Neera Tanden's withdrawal after toxic OMB nominee fails to win support, promises her administration 'role' anyway
Like this story? Share it with a friend!
You can share this story on social media: