Criminal probe into 'attempts to influence' 2020 US election in Georgia targets Trump, media claims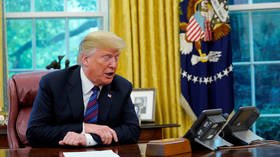 A criminal probe into the 2020 US presidential election, launched by the district attorney of Fulton County, Georgia, will look at former President Trump asking the secretary of state to "find" votes, according to media reports.
Fulton County DA Fani Willis confirmed the existence of the investigation on Wednesday and said she had sent letters to Governor Brian Kemp, Secretary of State Brad Raffensperger, the lieutenant governor, and the attorney general, asking that all records related to the administration of the election should be preserved.
"This investigation includes, but is not limited to, potential violations of Georgia law prohibiting the solicitation of election fraud, the making of false statements to state and local governmental bodies, conspiracy, racketeering, violation of oath of office and any involvement in violence or threats related to the election's administration," says the letter, obtained by the New York Times.
The Times cited a "state official with knowledge of the matter" as saying that the probe is related to Trump's phone call to Raffensperger in early January. Media to whom the recording of the call was leaked accused Trump of pressuring the Georgia secretary of state to "find" him votes, while Trump has maintained it was a legal call and that the sentence was referring to votes illegally cast for his opponent, current President Joe Biden.
Also on rt.com
Georgia secretary of state launches 'fact-finding probe' into Trump's demand to 'find votes' in 2020 election
Earlier this week, Raffensperger's office opened an administrative investigation into the call, after a Georgetown University professor alleged it violated Georgia law.
Willis won the election in November against fellow Democrat Paul Howard Jr, who had been the district attorney since 1997. She is the first African-American woman to hold the office.
Think your friends would be interested? Share this story!
You can share this story on social media: