Acting Homeland Security chief Wolf resigns, joining post-riot exodus, cites court rulings challenging legality of his authority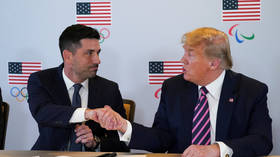 Acting US Department of Homeland Security (DHS) Secretary Chad Wolf has resigned amid an exodus of cabinet members quitting in the wake of last week's Capitol riot, but he cited adverse court rulings for his decision.
Wolf said he was saddened to step down, having planned to serve until President Donald Trump's administration ends, but "this action is warranted by recent events, including the ongoing and meritless court rulings regarding the validity of my authority as acting secretary."
Wolf made no specific mention of the January 6 storming of the US Capitol by pro-Trump protesters, which prompted Education Secretary Betsy DeVos and Transportation Secretary Elaine Chao to resign.
But he had been critical of Trump's response to the riot.
"These violent actions are unconscionable, and I implore the president and all elected officials to strongly condemn the violence that took place yesterday," Wolf said on Thursday. He added, "Any appearance of inciting violence by an elected official goes against who we are as Americans."
The same day Wolf issued that statement, the Trump administration announced that it had withdrawn its nomination for him to become permanent DHS secretary. A White House spokeswoman said the nomination was withdrawn on Wednesday, and the move was unrelated to the riot or Wolf's statement.
Wolf said then that he intended to remain in his job for the duration of Trump's term. The removal of his nomination had no practical effect because there wasn't time for the Senate to confirm his appointment before President-elect Joe Biden takes office on January 20.
Just hours before Wolf said he's resigning, he announced that he had instructed the Secret Service to begin National Special Security Event operations for Biden's inauguration on January 13, six days earlier than previously planned. He cited the events of the past week, heightened security concerns and a recommendation by Secret Service Director James Murray.
Wolf has since long been facing legal woes of his own, having been embroiled in several lawsuits arguing that his appointment was illegal.
On Friday, US District Court Judge James Donato ruled that Wolf was probably appointed to his position unlawfully and, as a result, blocked a regulation that would put new restrictions on the US asylum process. Several other judges had found that the administration failed to follow proper procedures when installing Wolf as acting DHS secretary.
FEMA Administrator Pete Gaynor will replace Wolf as acting secretary.
Think your friends would be interested? Share this story!
You can share this story on social media: