US Capitol police chief resigns as force refutes reports an officer 'died of events stemming from riot'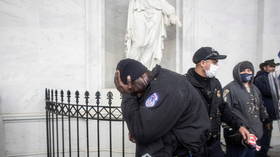 The US Capitol police chief is stepping down amid heated criticism over the response to the riot. Meanwhile, the department has refuted reports that one of its officers died of unknown causes following the violent disturbance.
"Media reports regarding the death of a United States Capitol Police (USCP) officer are not accurate. Although some officers were injured and hospitalized yesterday, no USCP officers have passed away," Capitol Police said in a statement, asking the public to respect the privacy of their officers.
Earlier, CNN reported that the officer, who had not been named, died on Thursday, less than a day after the riot at the Capitol, citing three anonymous sources, while NPR cited another one.
A US Capitol Police officer involved in the riots at the Capitol yesterday has died, according to two USCP sources

— Kristin Wilson (@kristin__wilson) January 7, 2021
Four persons lost their lives as a result of Wednesday's unrest, after one woman was fatally shot by police and three others succumbed to "medical emergencies."
Also on rt.com
Moment when woman in pro-Trump crowd invading Capitol building is shot by police caught on camera (DISTURBING VIDEO)
A rally organized to protest the result of the 2020 presidential election erupted into chaos on Wednesday as demonstrators stormed the halls of the Capitol, triggering panic and a full evacuation of legislators. The occupiers remained in the building for several hours before being cleared out by law enforcement, also triggering a 6pm curfew across DC and a full National Guard deployment.
In the wake of the unrest, US Capitol Police Chief Steven Sund announced his resignation on Thursday after coming under fire for the law enforcement response to the riot, including by House Speaker Nancy Pelosi, who also demanded he step down. The chief's resignation will take effect on January 16, a Capitol Police official said. Meanwhile, the officer involved in the lethal shooting of Ashli Babbitt, who was struck as protesters attempted to breach the Senate chamber, has also been placed on leave as the incident is investigated.
Think your friends would be interested? Share this story!
You can share this story on social media: