Trump sues over Election Day deadline for absentee votes in Georgia as 200K votes from 'left-leaning' counties outstanding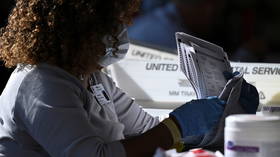 US President Donald Trump's campaign has filed suit in Georgia to pause the count of absentee votes received after Election Day. It's the third state the campaign has sued as rival Joe Biden pulls ahead in electoral votes.
The Trump campaign has filed to ensure the rules on counting absentee and mail-in ballots are being followed in Georgia, where about 200,000 absentee and mail-in ballots remain uncounted in DeKalb, Fulton, Forsyth, and other left-leaning counties, after a Republican poll worker claimed to have observed fraudulent behavior.
The AP initially reported the lawsuit ordered an immediate halt to the vote count. However, it was later revealed that the campaign had ordered election officials first to separate ballots received after 7pm on Election Day, the deadline for absentee and mail-in votes to be counted in Georgia. Once the absentee ballots were all accounted for, they should be stored pending "further instruction" from the court "as to their final disposition," the campaign requested.
The suit requests a court order mandating Georgia's Chatham County Board of Elections "collect, secure, and safely store all absentee ballots" received after the deadline and "provide an accounting of all such absentee ballots" that includes the voters' names, as well as the time and date of receipt, to the Republican Party.
NEW: Trump campaign files its third lawsuit of the day, this one to get Georgia to stop counting ballots. Basically the same as MI and PA pic.twitter.com/esVZRNRRwP

— Christian Datoc (@TocRadio) November 5, 2020
A representative for the state Republican Party said it would file similar suits to secure the vote in a dozen other counties after a Republican poll watcher allegedly saw a poll worker take unprocessed ballots from a "back room" and mix them into absentee ballots that were yet to be totaled.
"Today, a Republican poll observer in Georgia witnessed 53 late absentee ballots illegally added to a stack of on-time absentee ballots in Chatham County," a statement from the Trump campaign read, continuing "we will not allow Democrat election officials to steal this election from President Trump with late, illegal ballots."
Despite that deadline, the Biden campaign issued a call on social media on Wednesday for poll workers to go "door to door helping voters fix their mail in ballots so they count."

Shortly before the lawsuit was announced, Trump claimed victory in Georgia as well as the battleground states of North Carolina, Pennsylvania and Michigan. The latter has already been called by AP and other US media for Biden.
The count was temporarily halted on Tuesday night with 97 percent of precincts in Fulton County having returned results heavily favoring Democratic challenger Joe Biden, but resumed on Wednesday morning. Elections Director Richard Barron insisted on Wednesday that they were "gonna finish tonight."
"We're gonna finish tonight," Fulton County Elections Director says of vote counting in this key Georgia Democratic stronghold

— Jeremy Diamond (@JDiamond1) November 5, 2020
Apparent statistical anomalies in Wisconsin and Arizona also have voters crying foul, and many have called on Fox News to retract what they believe is a premature declaration of victory for Biden in the latter state. With Arizona included, Biden is just half a dozen Electoral College votes away from victory.
Think your friends would be interested? Share this story!
You can share this story on social media: