Man threatens to jump from Trump Tower Chicago 'unless allowed to speak with President Trump'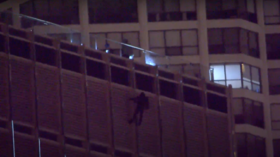 A man has scaled the Trump Tower in Chicago, allegedly demanding to speak with the president and threatening to cut his rope and jump if not allowed to get his "message" out.
Multiple videos and photos shared on social media show a man dangling on a rope around the 16th floor of the 98-story Trump Tower in Chicago on Sunday night.
The man is said to be in his 20s and has been dangling from the balcony in a climbing harness since around 5:30pm, demanding "to speak to the president" and "to get his message to the media," the Chicago Sun Times reports, citing Chicago Police spokesman Tom Ahern.
Multiple officers, SWAT agents, and firefighters are at the scene with a police negotiator trying to get the man down.
Authorities cordoned off the area as a crowd of onlookers gathered across the street.
The man was taken into custody shortly before 7am local time on Monday, after over 13 hours of negotiations with police. There were no injuries reported as a result of the incident.
It is unclear what kind of "message" the man was seeking to deliver. President Trump was in Nevada on Sunday, holding a re-election rally in Carson City at 4pm local time, as part of his busy campaign schedule ahead of the November 3 election.
Think your friends would be interested? Share this story!