Police departments across US report 'nationwide' 911 OUTAGE, possibly caused by Microsoft cloud glitch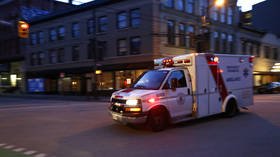 A number of police departments around the United States have reported that their 911 services are down, a widespread outage believed to be linked to a glitch in Microsoft cloud computing platform Azure.
Police and sheriffs departments in at least Minnesota, Arizona, California, Nevada, North Carolina and Pennsylvania noted issues with their emergency call systems on Monday, directing residents to use alternative numbers while they work to correct the issue, allegedly caused by a technical failure in Microsoft's Azure cloud computing services.
No official explanation has yet been offered for the outages in any of the affected locations.
Public safety alerts were sent by text to some Minnesota residents, also giving another way to contact authorities if calls to 911 fail to go through.
Microsoft earlier on Monday reported that a "subset of customers in the Azure Public and Azure Government clouds may encounter errors," while the company's Office 365 and Outlook services also encountered issues.
Some linked Microsoft glitches to the 911 outages, as many police departments across the US rely on the Microsoft tech to manage their emergency call systems.
By around 8pm local time in Minnesota, some departments noted 911 service had been restored, however the outages appeared to continue across various counties in Nevada and elsewhere.
Think your friends would be interested? Share this story!
You can share this story on social media: