Eskimo Pie brand owner vows to change 'derogatory' ice cream name for the sake of… racial equality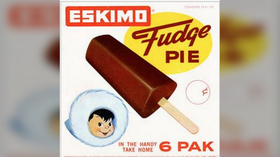 A confectionery giant plans to rename its famous Eskimo Pie chocolate-covered vanilla ice cream bar to help achieve "racial equality." The move comes as major brands try to appease the 'woke' movement.
Eskimo Pie will change the brand name and its marketing, Elizabell Marquez, a representative for the brand's parent company, Dreyer's Grand Ice Cream (part of Nestle), told Rolling Stone magazine.
We are committed to being a part of the solution on racial equality, and recognize the term is derogatory. This move is part of a larger review to ensure our company and brands reflect our people values.
Activists have been arguing that the word 'Eskimo' is inappropriate and even racist because it was first used by colonizers to refer to native people in the Arctic region, the Inuit and the Yupik.
The ice cream has been sold under the name Eskimo Pie since the early 1920s.The renewed calls for racial justice in the US and overseas are taking place along massive anti-police brutality protests, sparked by the death of George Floyd, a black man, at the hands of a white police officer in Minnesota last month.
Also on rt.com
As Cream of Wheat mascot follows Aunt Jemima & Uncle Ben out the door, who really benefits from this purge?
In many cities across the US, protesters have toppled and defaced statues of Confederate fighters and other historical figures associated by some with slavery, racism and oppression.
Major corporations are under pressure to rename popular brands that activists view as promoting racist stereotypes. This week, PepsiCo said it will change the name of its Aunt Jemima pancake mix and syrup, while Mars Inc promised to review the packaging of its Uncle Ben's rice.
Think your friends would be interested? Share this story!
You can share this story on social media: