China urges Facebook to drop 'ideological bias' after it slaps warning labels on 'state-controlled media' pages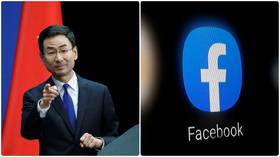 The Chinese government has accused Facebook of "ideological bias" after the social media giant announced plans to put warning labels on Chinese "state-controlled" media pages including Xinhua and CCTV.
The Chinese news agency and TV channel are among the outlets which Facebook has designated as "wholly or partially under editorial control of a state", based on the opinion of unnamed experts. Beijing criticized the change on Friday, saying social media platforms should not create obstacles for traditional media.
"We hope that the relevant social media platform can put aside the ideological bias and hold an open and accepting attitude towards each country's media role," Chinese Foreign Ministry spokesman Geng Shuang said during a daily briefing.
Facebook started labeling media pages on Thursday. Outlets associated with countries including China, Russia or Iran are described as "state-controlled".
Also on rt.com
Facebook selectively slaps 'state-controlled media' warning on some government-funded outlets ahead of 2020 US elections
However, public broadcasters in nations allied with Washington, have been given softer markers. The BBC in Britain has the label: "Confirmed Page Owner: British Broadcasting Corporation". The Facebook page of the US government news channel Radio Free Europe/Radio Liberty had no label at the time of writing.
The labeling of foreign media by Facebook was introduced as all social media platforms in the US find themselves in a perilous position following an executive order signed by President Donald Trump. The order was to probe the tech giants on whether they were abusing their editorial power over content and thus no longer merited special legal protection, unlike traditional publishers.
Also on rt.com
War on 'fake news' made Facebook users more gullible – just in time for the 2020 election! Is anyone surprised?
Trump gave the order amid a feud with Twitter, which marked some of his tweets with "fact-checks" implying they were misinforming readers. Facebook CEO Mark Zuckerberg criticized Twitter's move, reiterating that social networks should not be the arbiters of truth. In the following days an internal revolt by Facebook employees over Zuckerberg's failure to go after Trump became public.
If you like this story, share it with a friend!
You can share this story on social media: