Riot cops fire tear gas & rubber bullets as HUGE crowds march in Minnesota after police-involved chokehold death (VIDEOS)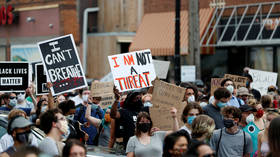 A massive crowd of demonstrators descended upon a police headquarters in Minneapolis to protest a recent killing of an unarmed man. They were met with an arsenal of riot control weapons, including stun grenades and rubber bullets.
Thousands of marchers could be seen around the 3rd police precinct headquarters in Minneapolis on Tuesday, demanding answers after a local man, George Floyd, was killed by an officer's chokehold, despite repeatedly stating that he couldn't breathe.

The action started near a restaurant in the city's center, eventually making its way to the police headquarters around three miles away.
Protesters reportedly smashed a door on the building, while footage shared online shows marchers breaking into a police squad car parking lot to vandalize vehicles.
An especially raucous group of protesters were filmed pelting a police SUV with projectiles, smashing out several windows as the car apparently attempted to flee the area.
The protesters soon met a forceful police response, however, with officers clad in riot gear unleashing thick clouds of tear gas, rubber bullets and sound grenades.
Energized demonstrators could also be seen chanting anti-police slogans as they marched in line, holding signs and shouting "No justice, no peace, prosecute the police."
The scenes of unrest came on the heels of Floyd's killing on Monday, which was caught on film and went viral on social media, putting the Minneapolis Police Department at the center of a major scandal.
Also on rt.com
'I can't breathe' 2.0: Minneapolis police in hot water as suspect dies during BRUTAL chokehold arrest
In the video, Floyd is heard begging for his life, at times calling out for his mother, as an officer pins the man to the ground with a knee on his throat. While police insist Floyd "physically resisted officers," footage of the incident appears to belie their story.
Though four officers were fired after the video emerged online, the killing has stoked widespread outrage, with many critics – including Floyd's family – calling for murder charges for the four policemen.
Floyd's killing follows a similar incident in New York City in 2014, in which a black man named Eric Garner was strangled to death in a police chokehold, while gasping "I can't breathe." His final words have become a rallying cry for anti-police abuse activists and could be heard chanted repeatedly throughout Tuesday's action.
Think your friends would be interested? Share this story!
You can share this story on social media: