'We're in deep s**t': Ousted 'whistleblower' Dr. Bright becomes new anti-Trump hero pinning blame on White House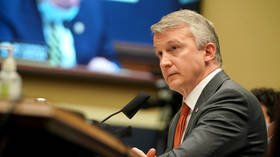 Mainstream media has elevated National Institutes of Health whistleblower Dr. Rick Bright to heroic status after his congressional testimony denounced Trump's Covid-19 response as borderline criminally negligent.
Bright, the director of the US Biomedical Advanced Research and Development Authority (BARDA) until he was unceremoniously dismissed last month, painted a disturbing picture of a government flying blindly into disaster on Thursday during his testimony on the administration's Covid-19 response before a subcommittee of the House Committee on Energy and Commerce.
Warning Congress that "the window is closing to address" the outbreak that has killed tens of thousands of Americans and threatening the "darkest winter in modern history" if his warnings continued to be ignored, Bright was warmly embraced by Democrats on the committee. They readily lapped up his damning claims about the Trump administration's health policy: failure to plan properly for the Covid-19 outbreak, refusal to take his warnings about running low on personal protective equipment seriously, insistence on hyping hydroxychloroquine despite the absence of placebo-controlled studies proving its efficacy against the virus.
"You're an American hero," Rep. George Butterfield (North Carolina) fawned, while New Jersey Rep. Frank Pallone likened the fired vaccine expert to one of John F. Kennedy's "profiles in courage."
Also on rt.com
White House rejects bombshell New York Times report warning of doubling Covid-19 deaths & skyrocketing infections
Bright filed a whistleblower complaint earlier this month alleging cronyism and an aversion to scientific rigor among the political appointees running the Department of Health and Human Services (HHS), which supervises BARDA. He claimed he was fired over his unwillingness to promote the malaria drugs chloroquine and hydroxychloroquine as potential cures for Covid-19, as well as his warnings about the country's short stock of medical supplies.
HHS, however, had a scathing response ready for Bright's claims, accusing him of colluding with "partisan attorneys" and spreading "misinformation" about the agency.
While Republicans on the committee attempted to grill Bright about his refusal to accept hydroxychloroquine as a potential Covid-19 treatment, highlight pieces missing from his whistleblower complaint, and trace stockpile deficiencies into previous presidential administrations, their voices were largely drowned out.
The chorus of media and blue-check cheerleaders greeted Bright's testimony as gospel, and the scientist himself as a doomsday prophet.
Beyond deficiencies in the national stockpile, Bright also linked the administration's failure to "educate" Americans about wearing masks and social distancing months before the pandemic arrived in the US to further deaths.
Ultimately, Americans would be doomed if the Trump administration didn't start listening to the scientists, Bright warned, noting that even Trump's much-vaunted "Warp Speed" vaccine initiative was doomed to failure.
Trump has dismissed Bright as a "disgruntled employee," while admitting he'd "never met him or even heard of him." Health and Human Services secretary Alex Azar snarled that "his allegations do not hold water," insisting "everything he's complaining about was done."
Think your friends would be interested? Share this story!
You can share this story on social media: