Trump gives $25bn in emergency cash to coronavirus-hit public transit systems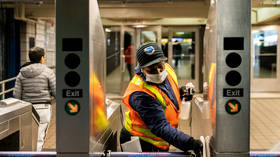 US President Donald Trump is delivering $25 billion in emergency funding to transit systems in some of the hardest-hit coronavirus hotspots in the nation, including New York, San Francisco, Philadelphia, Los Angeles, and Chicago.
The president announced the sizable grants in a statement on Thursday, naming Washington DC, San Francisco, and a handful of other cities among the recipients of the much-needed emergency cash.
New York – the epicenter of the US' coronavirus outbreak – will receive $5.4 billion for its public transit system, Trump said in the statement. The city's Metropolitan Transit Authority was already in poor shape before the epidemic hit and has suffered huge losses as ridership dropped off steeply under citywide quarantine orders.
Also on rt.com
US jobless claims surge to record 10 MILLION amid coronavirus lockdown
With nearly all of the country's metropolitan areas under lockdown, public transit is suffering from cratering ridership everywhere, and there's no end in sight for the sweeping quarantine measures. Trump extended nationwide "social distancing" guidelines until the end of April earlier this week.
With the total number of confirmed cases of coronavirus in the US surpassing 216,000 as of Thursday, the country is currently the chief pandemic hotspot. Some 5,148 people have died from the disease in the US. New York state has 92,000 cases, with more than 51,000 of those in New York City; 2,373 people with the virus have died in the state since the epidemic began. New Jersey is the next-hardest-hit state, followed by California and Michigan.
While workers considered non-essential have been forced to either work from home or take an unplanned hiatus from their jobs, transit workers are considered essential, and most cities have kept their public transit systems running albeit at reduced capacity. New York Mayor Bill de Blasio warned city residents that transit workers would be enforcing social distancing on subway cars and violators could be fined.
State governors including New York's Andrew Cuomo, Illinois' JB Pritzker, and California's Gavin Newsom have slammed the federal response to the pandemic, complaining in recent weeks that they have been unable to secure the testing kits they need. Cuomo warned on Thursday that New York only had enough ventilators on hand to last six more days if demand keeps up at its current rate.
Also on rt.com
New Yorkers need calm during coronavirus crisis, not the Empire State Building screaming death and despair
Trump hit back at his critics on Twitter, including New York Senator Chuck Schumer, whom he accused of "always complaining" despite getting "far more than any other state."
"It wouldn't matter if you got ten times what was needed, it would never be good enough," the president tweeted, suggesting New York got off to a "late start" in addressing the epidemic. Excoriating his critics in other states for their "insatiable appetites" that could never be "satisfied," the president hinted that their motivation was politics, not the health of their citizens.
Like this story? Share it with a friend!
You can share this story on social media: