Chernobyl to Katrina: Pundits scramble to compare Trump's handling of coronavirus to previous catastrophes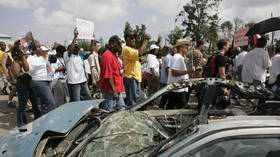 Media are comparing US President Donald Trump's (mis)handling of the COVID-19 coronavirus epidemic to high-profile historical disasters, from the Chernobyl nuclear accident to Hurricane Katrina…and even the fall of Rome.
Pundits eager to see the end of Trump have rushed to compare what they view as his failure to properly deal with the coronavirus outbreak to legendary disasters from recent and ancient history, regardless of how well those disasters reflect current events.
The president himself retweeted a meme that was quickly interpreted as comparing himself to Emperor Nero, who supposedly fiddled while Rome burned. That set off a predictable frenzy, but it was far from the only mishandling of a catastrophe Trump's coronavirus response evoked in the #Resistance crowd.
Others pointed to Katrina, the 2005 hurricane that devastated New Orleans while President George W. Bush mostly looked the other way, waiting critical days before sending in lifesaving aid and leaving the poor and minority populations of that city to fend for themselves.
Calling the virus Trump's Chernobyl was perhaps inevitable, given the Resistance's obsession with the president's much-hyped yet seldom-verified connections with Russia. Trump, the sages pushing this comparison claimed, was "more worried about protecting the myths that define his alternative reality than protecting vulnerable people who will die."
The Iran hostage crisis got some play too, with NBC's Chuck Todd suggesting the epidemic was "not his fault, but it's a test in real time."
New York Times columnist and Nobel Prize-winning economist Paul Krugman was one of the worst offenders, hopscotching from Hurricane Katrina to Iraq – via the "weapons of mass destruction" hoax his fellow Times writers were the loudest voices in pushing nearly two decades ago.
Others made fun of the vultures circling the president, suggesting the various comparisons were merely cartoonish politicization of an epidemic that hadn't visibly sunk its teeth into the American population.
Think your friends would be interested? Share this story!
You can share this story on social media: