NYT shredded on social media for running 'propaganda' article by Taliban leader wanted by the FBI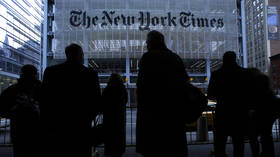 Twitter users are scratching their heads and openly questioning the New York Times' standards after the outlet published an opinion piece by the Taliban's deputy leader – a man on the FBI's most-wanted list with a $5mn bounty.
Considering the current position of the US in the Middle East, the Times running a piece penned by Sirajuddin Haqqani, entitled 'What We, the Taliban, Want,' did not sit well with many.
Social media users were quick to denounce the piece as "propaganda," with several tweeting that publishing something written by the Taliban is "not a good look" for the NYT. One Twitter commenter wrote: "Nothing screams American defeat more than today's oped."
Others questioned the Times's decision to publish a man who is currently on the FBI's most-wanted list, not to mention his involvement with a terrorist group that kidnapped one of the NYT's own journalists, David Rhode.
Though Haqqani's article was a call for peace, it also went out of its way to defend the Taliban's position against the US military in the Middle East. "We were forced to defend ourselves," he writes, explaining the Islamist terrorist group's fight against "the foreign coalition led by the United States."
Even politicians are taking notice of the piece, including Republican Congresswoman Liz Cheney, daughter of Dick Cheney, the former vice president in the George W. Bush administration.
"Did you pay him for this piece?" the outraged representative asked the Times.
Congressman Jim Banks (R-Indiana), who served in Afghanistan with the US Navy Reserve, tweeted he was "appalled" at the Times running the story.
If you like this story, share it with a friend!
You can share this story on social media: