Dems say Iowa caucus chaos caused by 'coding issue,' will release just over HALF of results first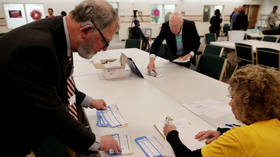 Iowa Democratic Party Chair Troy Price has addressed the fiasco of Monday's caucus, insisting there was no "cyber security intrusion," and that a "coding error" has been "identified and fixed"
Price said the delay in Iowa's caucus results, for which several Democrats seem to have already claimed victory, is because IDP was required to "enter data manually," as well as conduct an "investigation" into the coding area supposedly causing all of the issues.
With many taking to social media to criticize Shadow Inc., the group behind the seemingly disastrous app meant to record results in the caucus, Price insisted the app is "sound" and gave accurate, if only "partial," results.
Price claims results will be released sometime Tuesday, but the "required paper documentation" has slowed the process down.
With several Democrats already claiming victory in Iowa, Price's statement has done little to give voters hope in the disastrous app system being used to report results.

"These mooks didn't even try a stress test before the caucus. "Partial data reporting due to a coding error" is the sort of thing THAT WOULD HAVE SHOWN UP IN A PRACTICE RUN," commentator Esoteric Jeff pointed out.
"Iowa State Dem Party statement. I'll just say it. When we get the results I 100% don't believe them," leftist YouTuber Kyle Kulinski tweeted.
Others have pointed to a possibility the Democratic Party is trying to cover up a Bernie Sanders win to shine a better light on more establishment candidates like Joe Biden or Elizabeth Warren.
However, it's not just Sanders' supporters, but also those of Pete Buttigieg have been celebrating win somewhat prematurely. Buttigieg himself appeared to be confident he was "victorious."
Buttigieg doubled down on his claim of victory while at a campaign stop in New Hampshire. Though he admitted the "math" was not done, Buttigieg told a crowd he was arriving "victorious" and with "momentum." The Sanders campaign has meanwhile claimed their candidate is in the lead, according to their own data which they say they have gathered from "precinct captains around the state." The campaign claims Sanders is holding a strong lead based on 60 percent of the vote.
The Iowa Democratic Party has promised to release a majority of the final caucus results by 4 p.m. CST (5 p.m. EST) on Tuesday. While more than 50 percent of the final results are being put out, there is no timeline for when the full results will be ready for the public.
President Donald Trump has meanwhile been using the Iowa debacle to his advantage and trolling Democrats on Twitter endlessly.
After claiming he was the only person who could declare victory in Iowa, the president questioned how long it would be before his critics started conspiracy theories blaming Russia for the delayed results.
If you like this story, share it with a friend!
You can share this story on social media: