2 deaths confirmed after massive manufacturing plant explosion rocks Houston (VIDEOS, PHOTOS)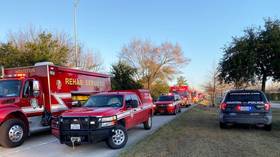 A massive explosion at a manufacturing plant has killed at least two people in Houston, Texas. The enormous blast echoed across the city, shattering windows and waking residents in the early hours of Friday morning.
The explosion took place at a factory in the Gessner area of the city. Police confirmed on Friday afternoon that at least two people were killed and several others were injured.
Numerous homes were also damaged as the detonation sent out blast waves that were felt up to 25 miles away. Video from a home doorbell captured the moment of the ferocious blast.
The blast, which happened at around 4:25 am local time, left a downpour of debris falling from the sky in its wake. Authorities warned residents not to touch any objects they encounter in their yards or on the street following the incident.
Images shared on social media show the damage the blast caused to homes in the vicinity.
Houston Fire Chief Samuel Peña said investigations are in their early stages but they point to a leak of some kind at the manufacturing site, which mostly handles propylene gas.
Local Police Chief Art Acevedo warned of increased flames and repeated smaller explosions in the aftermath of the incident. He also stated that nearby schools may be affected by the explosion.
Mike Iscovitz, a meteorologist with the local Fox News channel, tweeted that the massive explosion appeared on the weather radar and was felt more than 20 miles away. "Radar clearly shows this brief FLASH of reflectivity from NW Houston," he said.
The site of the explosion appears to be Watson Grinding and Manufacturing, a machining and manufacturing company.
The owner of the facility reportedly told local media that the explosion originated in a propylene tank. Propylene is a highly flammable gas used in manufacturing.
Think your friends would be interested? Share this story!
You can share this story on social media: