Trump rejects environmental 'prophets of doom' and their 'apocalyptic predictions' in Davos speech (VIDEO)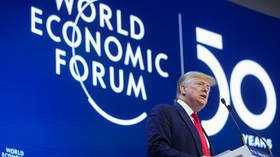 US President Donald Trump openly rejected environmental "prophets of doom and their predictions of the apocalypse" as mere alarmists seeking absolute power in his Davos speech on Tuesday.
"They are the heirs of yesterday's foolish fortune tellers," Trump added, saying similar previous predictions of environmental doom included the overpopulation fear of the 1960s and 'peak oil' concerns in the 1990s.
These alarmists always demand the same thing – absolute power to dominate, transform & control every aspect of our lives.
Trump also told the packed auditorium that the US will join the 'one trillion trees' initiative launched at this year's forum session under which public and private funds would be used to plant the huge number of trees by the end of this decade.
The forum has effectively played host to an indirect exchange of views between Trump and Swedish climate activist Greta Thunberg, who also spoke at Davos on Tuesday.
Also on rt.com
'Keep up the great work': Trump jabs at Greta Thunberg in Twitter proxy battle
The 17-year-old said that "pretty much nothing" has been done to reduce CO2 emissions, and appealed to world leaders to listen to young people's concerns: "The science and voice of young people is not the center of the conversation, but it needs to be."
The teen, hailed by MSM and many liberal pundits, recently admitted that the school strike campaign and protests she spearheaded for a year have not effectively achieved anything on the climate front, given that greenhouse gas emissions have continued to rise.
Think your friends would be interested? Share this story!
You can share this story on social media: