Tennessee National Guard airbase briefly placed on lockdown amid reports of active shooter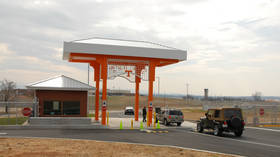 McGhee Tyson Air National Guard base in Tennessee was briefly placed on lockdown, following reports of an active shooter in the area.
The alarm was raised shortly after 11am on Wednesday, when a local student reported seeing a suspicious person who appeared to be armed. Law enforcement conducted a sweep of the base, spokesman Lt. Col. Travers Hurst told reporters. No shots were reported, yet personnel were told to shelter in place.
I'm standing outside McGhee Tyson Air National Guard Base in Alcoa, TN, which was locked down after someone reported seeing a suspicious person with a rifle. NO confirmed reports of shots fired. There's a large police presence, with multiple armored vehicles going in the gates. pic.twitter.com/BPTRJL2MJl

— Travis Dorman (@travdorman) January 15, 2020
BREAKING: Public Information Officer Travers Hurst with McGhee Tyson Air National Guard Base says there is an active shooter. The base is on active lockdown and local law enforcement is sweeping the area. https://t.co/BSApD2XUtp

— Laura Halm (@WATELauraHalm) January 15, 2020
The Tennessee National Guard said that reports of "suspicious activity" triggered the alert, but added that there are "no reports of injuries."
After clearing the base and speaking to the student again, however, authorities determined the initial report was based on a misunderstanding.
"We now believe they didn't see what they thought they saw," Hurst said. "Everyone is safe. There were no shots fired."
Commercial flights coming in and out of the adjoining McGhee Tyson Airport were not affected at any point during the lockdown.
McGhee Tyson is located near Knoxville, and is home to the 134th Air Refuelling Wing. Crews there operate and maintain a fleet of KC-135 tanker aircraft.
Like this story? Share it with a friend!
You can share this story on social media: