'Active shooter' standoff in Philadelphia ends with police killing suspect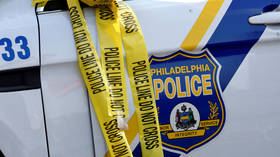 A man in Philadelphia, Pennsylvania, who fired on police and barricaded himself in a house for hours, was shot and killed after a standoff. No other injuries were reported. The active shooter situation saw two schools locked down.
Reports of police and emergency services dealing with an "active shooter" situation on Hawthorne Street appeared around 1:30 pm local time on Thursday. Police urged everyone to stay clear of the area.
URGENT - STAY AWAY FROM THE AREA OF 4600 HAWTHORNE STREET. ACTIVE SHOOTER. POLICE AND EMS RESPONDING. NO INJURIES REPORTED AT THIS TIME

— Eric Gripp (@PPDEricGripp) January 9, 2020
Helicopter footage from local news media shows multiple officers converging on the neighborhood in Frankford, a northeastern section of Philadelphia.
The man opened fire on officers who were trying to serve him with a warrant for violating his parole, Deputy Commissioner Robin Wimberly told reporters.
Six officers responded to the alert, as the suspect barricaded himself inside the home. A SWAT team stormed the premises shortly after 3pm and exchanged gunfire with the man, who was fatally shot.
The Warren G. Harding Middle School and Frankford High School were placed on "lock-in" due to the active shooter situation.
Think your friends would be interested? Share this story!
You can share this story on social media: