Bernie Sanders endorses & un-endorses Young Turks' Cenk Uygur for Congress in under 24hrs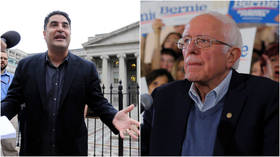 Democratic presidential hopeful Bernie Sanders has retracted his endorsement of Young Turks founder Cenk Uygur for a California House seat, less than 24 hours after making it following a torrential backlash over Uygur's "sexism."
Sanders quietly withdrew his endorsement on Friday, referencing what appeared to be a face-saving move by the creator of the progressive news outlet on Friday.
"Cenk today said he is rejecting all endorsements for his campaign and I retract my endorsement," Sanders said in a somewhat cryptic tweet acknowledging the "concerns" of "frustrated" supporters.
As the rancor mounted, Uygur cannily opted to give his backers an escape hatch, declaring he was rejecting any and all endorsements – other than those of California voters – because he didn't want to be "beholden to corporations, lobbyists, or special interest groups."
Uygur had only just announced Sanders' endorsement Thursday evening, drawing intense scrutiny to his campaign to fill the California House seat left vacant when Democrat Katie Hill resigned in October under her own cloud of sexual impropriety.
A legion of offensive comments from Uygur's lengthy on-air career (over the course of which he went from a Republican to a progressive Democrat) immediately surfaced on social media, where they were pounced upon by the mainstream press. During one episode of his show, Uygur had ranked women on a numerical scale for their appeal in a particular sex act; in another, he defended the Harvard University men's soccer team sharing a "scouting report" that sexually ranked female students on a similar numerical scale, insisting that there was no problem with the existence of such scales and that the only problem with the Harvard list was that it had gone public.
Asked about these and other incidents by the Times, he defended his show's "frank conversations about sex" and declared himself a champion of women's rights.
While criticism largely focused on Uygur's perceived sexism (and racism – several Young Turks episodes involved Uygur and co-host Ana Kasparian reading other people's racist comments on air), Uygur has also repeatedly denied the Armenian genocide occurred, even while repeatedly excoriating others for not taking the Native American genocide seriously enough.
For Sanders and Uygur's would-be colleague Rep. Ro Khanna (D-CA) to endorse him so soon after the Senate unanimously voted to recognize the Armenian genocide is odd, to say the least. But it is the stink of Uygur's misogynist comments that posed the biggest threat to Sanders, whose campaign has struggled with accusations of sexism amplified by his Democratic primary rivals. Just last week, they fired a staffer after a conservative publication dredged up homophobic slurs he'd posted on Twitter in the past.
Several progressive political figures piled on, demanding Sanders withdraw his endorsement, including Mark Gonzalez, chairman of the Los Angeles County Democratic Party, and Will Rodriguez-Kennedy, president of the California Young Democrats. Social media lit up with criticism of Uygur as a "fake progressive."
…and of Sanders for letting Uygur get away with his fakery.
Sanders' endorsement of the Young Turks founder was held up as proof of his own misogyny.
Others defended Uygur, insisting the Young Turks was, in fact, a progressive news network and that he'd learned from his mistakes.
Like this story? Share it with a friend!