2 DoD staffers killed & 1 injured after US sailor opens fire inside Pearl Harbor Naval Shipyard before taking own life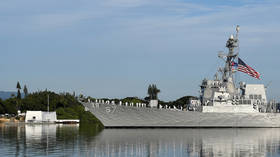 Two civilians were killed after a gun-wielding US sailor went on a shooting spree inside the Pearl Harbor Naval Shipyard, prompting a brief lockdown of the base. The attacker took his own life after the rampage.
Three Department of Defense civilian workers were shot, and two of the victims succumbed to their injuries in the wake in the incident, officials at the Joint Base Pearl Harbor-Hickam told media. The third injured staffer is in stable condition.
The base has identified the attacker as a US sailor, who apparently shot himself.
Security forces were called to respond to an active shooter situation that began unraveling around 2:30pm local time near the shipyard's Dry Dock 2.
A heavy police presence, including armored vehicles, has been spotted outside the base.
"There is an active shooter on base, please seek a secure location until further notice," the 15th Wing of the US Air Force, based at the Joint Base Pearl Harbor-Hickam, wrote in a Facebook post, urging personnel to "stay safe."

Six Honolulu Fire Department units with 22 responders were dispatched to the scene.
Hawaii News Now reported at the time, citing sources at the base, that of the three wounded two were taken to hospitals in critical condition.
Also on rt.com
Incel alert! US Army warns its soldiers that they could be shot by a disgruntled virgin if they go see new movie 'Joker'
A witness told Hawaii News Now on a live broadcast that he heard what he thought were gunshots and saw the gun-wielding attacker, who he said was wearing a Navy uniform. "I looked out in time to see the shooter, who I assume was a sailor because he was in uniform... shoot himself," the witness said.
The witness went on to say that he saw three people on the ground in the aftermath of the incident.
The base was on lockdown for about an hour and a half before it was lifted around 4:00pm.
Meanwhile, according to Gov. Ige, the White House has offered federal agencies' assistance to the base in dealing with the investigation.
The shipyard is located across the harbor from the Pearl Harbor National Memorial, and is a home port to 10 destroyers and 15 submarines of the US Pacific Fleet.
Think your friends would be interested? Share this story!
You can share this story on social media: