'All Clear' given after White House, Capitol Hill placed on lockdown due to 'unresponsive aircraft'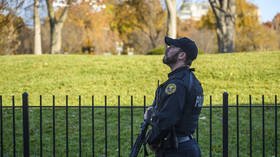 The White House was placed on lockdown and Capitol Hill evacuated as US Air Force jets scrambled to intercept an 'unresponsive aircraft' in the DC area. The all-clear was given roughly 30 minutes later, as no plane was found.
The White House was placed on lockdown just before 9am local time, amid an emergency which triggered "shelter in place" instructions from security personnel. Many members of the White House press pool were reportedly ordered into a briefing room for a brief period.
The area in the immediate vicinity of the Capitol Building was closed off and the streets cleared by police, according to eyewitnesses at the scene.
The US Northern Command confirmed that fighter jets were scrambled to investigate the threat and re-establish contact, after what looked like a small aircraft failed to make appropriate contact with air traffic controllers after entering restricted airspace over the US capital.
However, that now appears to have been a false alarm, as North American Aerospace Defense Command (NORAD) sensors mistakenly registered a flock of birds as an aerial threat.
JUST IN: The security scare that put the White House in lockdown today was possibly caused by a flock of birds appearing on radar. NORAD confirms no aircraft violated D.C. airspace and scrambled jets never located a plane.

— Sam Sweeney (@SweeneyABC) November 26, 2019
Think your friends would be interested? Share this story!
You can share this story on social media: