IED, not IUD! Style mag issues correction after cocking up impeachment witness Vindman's injury story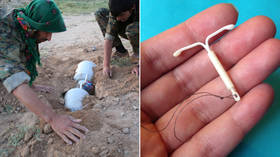 Did a roadside bomb or a female contraceptive device cause star impeachment witness Lt. Col. Alexander Vindman's war wounds? One magazine was forced to clear things up as the internet laughed.
Vindman testified before the House Intelligence Committee's impeachment inquiry against President Trump on Wednesday. Weeks beforehand, GQ magazine profiled the National Security Council adviser, but must have mistook his military service for military cervix.
Initially, the article read that Vindman "has a Purple Heart for an IUD injury in Iraq." Evidently realizing that the colonel had been struck by an improvised explosive device and not by an intrauterine contraceptive device, GQ issued a correction.
Readers noticed the mixup on Friday though, and poked fun at the mistake, much like the men's magazine seemingly assumed that Vindman had poked his way to a Purple Heart.
"He went back to duty the same day," one commenter wrote. "So it was either a really powerful IUD or a really weak IED."
The error, another commenter said, is precisely why magazines need to hire more female editors.
Thanks to the correction, young men and women joining the military can rest easy, with one less threat to worry about. While the danger of roadside bombs remains ever-present in a combat zone, the United States does not at this moment consider uterine coils an enemy in its global war on terror.
Like this story? Share it with a friend!