Biden defends Obama's record from onslaught of inconvenient facts during Democratic debate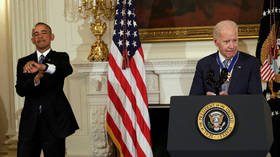 Democratic presidential candidates called out former vice president Joe Biden for clinging to the reputation of former president (and his former boss) Barack Obama with all his might – except when it's inconvenient.
Biden "wants to take credit for Obama's work, but not have to answer any questions" about the negative aspects of his presidency, former secretary of labor Julian Castro pointed out during Thursday's Democratic primary debate, adding that New Jersey Senator Cory Booker had also taken note of Biden's reliance on his former boss' reputation during the previous debate.
Also on rt.com
Is he OK? Biden's eye fills with BLOOD as he defends fossil fuel ties at climate forum (VIDEO)
Biden insisted he stood with Obama during "all eight years, good, bad and indifferent," but refused to own his former boss' immigration policy, insisting "we didn't lock people up in cages" at the border – even though Obama deported three million people and built the "cages" President Donald Trump is currently being raked over the coals for using. Even CNN was forced to fact-check the claim as "false."
Biden also paid homage to the Affordable Care Act – or Obamacare – making sure to drop the former president's name, in case anyone forgot who was behind the plan that has caused healthcare costs to skyrocket over the past decade. "I know [Massachusetts Senator Elizabeth Warren] says she is for Bernie," Biden said, referring to Warren's support of Medicare for All. "Well, I am for Barack."
Castro slammed Biden's Obamacare-plus healthcare plan for leaving 10 million people uninsured, wielding a previous debate's fact-check to head off any argument, but Biden pushed forward anyway, leading Castro to accuse him of losing his memory.
"You just said two minutes ago that they would have to buy in!" he yelled. "Are you forgetting what you said two minutes ago?" to scandalized roars from the crowd.
"I'm fulfilling the legacy of Barack Obama, and you're not," Castro continued.
"That'd be a surprise to him," zinged Biden.
Even #Resistance stalwarts couldn't help but notice that Biden's universe revolved around the former president...
… and his refusal to answer for the faults of Obama's presidency won him no supporters.
If you like this story, share it with a friend!
You can share this story on social media: