US states scrutinize Google & Facebook dominance, privacy abuses in massive antitrust probes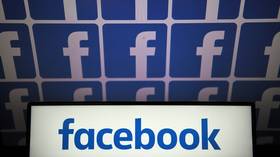 Over 40 state attorneys general have joined forces to investigate whether Big Tech powerhouses Facebook and Google violated antitrust laws with anticompetitive practices, hurting users in the process.
Prosecutors in the first probe will check whether Facebook "stifled competition and put users at risk," New York Attorney General Letitia James, who is leading the investigation, said on Friday. The attorneys general of Colorado, Florida, Iowa, Nebraska, North Carolina, Ohio, Tennessee, and the District of Columbia are also taking part in the probe.
Even the largest social media platform in the world must follow the law and respect consumers.
The second probe, led by Texas Attorney General Ken Paxton's office, is expected to focus on Google, according to a source who spoke to Reuters, but has not named any names yet. That investigation is expected to include over 40 attorneys general and will concentrate on the intersection of privacy and antitrust, according to another source.
Also on rt.com
Facebook allows massive data leaks with no rules in US to prevent it – expert to Boom Bust
In recent years Facebook has greatly expanded its business ventures, acquiring Instagram and WhatsApp Messenger – which, unlike their parent company, are growing fast. At the same time, the social media behemoth has been beset by scandal after scandal, accused of violating users' privacy and misusing their data. Facebook was recently slapped with a $5 billion fine by the Federal Trade Commission for those violations – the largest fine ever handed down by that agency to a tech firm.
Google's dominance of the search sector and its alleged ability to swing elections have been the subject of Senate hearings, and several employee whistleblowers have come forward with what appears to be proof that the company manipulates search results for political ends. Additionally, Google has been accused of directing search users to its own products at the cost of competitors.
In July, the Justice Department (DoJ) launched a probe into whether the big tech firms are complying with antitrust laws. The officials did not explicitly call out Facebook or Google but hinted that they would be going after the major players, with Apple and Amazon also falling within the domain of "search, social media, and some retail services online."
Congress also started an investigation into the Big Tech giants. The House Judiciary Committee head, Rep. Jerrold Nadler (D-NY), voiced concern that "a handful" of companies have taken control over the vast sectors of online commerce and communications. The issue has even come up in the 2020 presidential race, with Democratic nomination hopefuls including Senators Elizabeth Warren and Bernie Sanders arguing that Facebook is too powerful and needs to be "broken up."
Facebook, of course, denies it violated any antitrust rules, and said it is eager to work with lawmakers to come up with regulations to "protect" users. Google, too, looks forward to "answer[ing] questions about our business and the dynamic technology sector," a spokesperson said in an email.
Think your friends would be interested? Share this story!
You can share this story on social media: