Trump taps Rep. John Ratcliffe to replace Dan Coats as Director of National Intelligence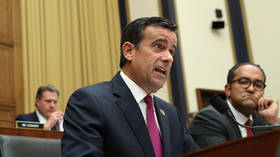 US President Donald Trump has nominated Congressman John Ratcliffe (Tx-R) for the position of the Director of National Intelligence, confirming that the incumbent DNI chief, Dan Coats, is set to leave the office in two weeks.
I am pleased to announce that highly respected Congressman John Ratcliffe of Texas will be nominated by me to be the Director of National Intelligence. A former U.S. Attorney, John will lead and inspire greatness for the Country he loves. Dan Coats, the current Director, will....

— Donald J. Trump (@realDonaldTrump) July 28, 2019
Trump thanked the outgoing Director Coats for his service, promising to name the acting chief of the DNI "shortly." Trump's announcement has confirmed earlier reports by the US media that the departure of Coats was imminent. The official has reportedly told Trump last week that he was looking to step down "soon."
Ratcliffe has reportedly impressed the President his comments during the recent week's House Judiciary Committee hearings and his handling of the special counsel Robert Mueller.
"The special counsel's job, nowhere does it say that you were to conclusively determine Donald Trump's innocence or that the special counsel report should determine whether or not to exonerate him," Ratcliffe told Mueller during the hearing, stating that his report was putting US President "below the law."
Media reports that Trump was "eager" to replace Coats emerged early this month, suggesting that the US President was dissatisfied with the DNI chief's statements that contradicted his own. Coats indeed openly criticized Trup's handling of the landmark Helsinki Summit with Russia's President Vladimir Putin. He also said that North Korea was unlikely to give up its nuclear arsenal disputing Trump's assessment.
Back then, the reports prompted Coats to issue a statement, bemoaning the reporting of the pesky media that disrupted with his focus on "national security."

Like this story? Share it with a friend!