Oregon GOP trolls Democrats with 'siege' of Capitol Building while ditching vote on divisive bill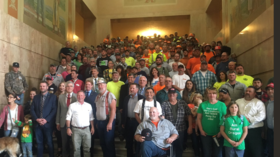 The Oregon GOP official Twitter account has been mocking Democrats as Republican senators avoided a legislative session in order to sabotage a climate bill. Police were ordered to bring in rebel lawmakers amid protests.
The bizarre political drama in the Beaver state centers around House Bill 2020, which would reduce fossil fuel emissions by 2050. Democrats hold a 18-12 majority in the State Senate, but they need 20 people for a quorum to pass legislation. And 11 republicans went into hiding on Thursday, thus disrupting every session since then.
Also on rt.com
'Come heavily armed': Showdown in Oregon as governor sends police to round up Republican lawmakers
While the state police are searching for senators at the request of the governor, the official GOP Twitter account has been provoking a heated online row.
"Heavily armed militia lays siege to Oregon's Capitol as Senate Democrats cower in fear," read the viral message.
The tweet came out after the Oregon State Senate closed on Saturday, citing a "possible militia threat." Several local militia groups, including the Oregon Three Percenters, who were involved in an armed takeover of a wildlife refuge in 2016, pledged their support to local lawmakers.
It's unclear if it was intentional or not, but the photo accompanying the tweet was from Wednesday's protest after the House passed the bill. Truckers, loggers and other opponents of the legislation insist it would devastate communities and cost jobs for the sake of 'reckless' environmental policies.
The message has been bashed for inciting hatred and misrepresenting the protesters.
Ubiquitous Congresswoman Alexandria Ocasio-Cortez(D-NY) joked that this is the way Republicans deal with "Sunday Scaries," and pledged to find them a "therapist."
The Oregon GOP doubled down later with a tweet showing children at the steps of the capitol, saying there were "more scary miltia people" (sic) and it was "no wonder Senate Democrats left."
Protests against the legislation that would limit carbon emissions in the state and allow companies to exchange emission "allowances" continued on Sunday as rural communities are concerned that it would drive fuel prices up and hurt small businesses, farmers and loggers. The next legislative session is on Monday, but there's no indication that Republican lawmakers would show up.
Tensions between the coastal and inland communities are not new in Oregon. Back in 2016, land rights activists occupied the Malheur National Wildlife Refuge in protest at the federal government's mistreatment of landowners. Nevada ranchers Ammon and Ryan Bundy led the group that took over the refuge, kicking off a 40-day standoff with Oregon and federal police.
Like this story? Share it with a friend!