Female sailors ranked on 'rape list' aboard 2nd US submarine to integrate women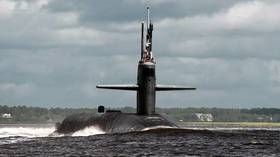 Sailors aboard a US submarine created a "rape list," ranking female crewmembers and detailing sexual acts they wanted to perform on them, a report says. The boat's commander was sacked following a probe into the case.
Just two year after the USS Florida became the second navy submarine to integrate enlisted women, a "rape list" was shared among its crew, news outlet Military.com wrote, citing an investigation report, obtained through a Freedom of Information Act (FOIA) request.
The probe is said to have discovered that "lewd and sexist comment and jokes were tolerated" on board, while trust among the crewmembers and senior officers "was nonexistent."
There were 32 women among the 173-person crew, including two chief petty officers. Every few weeks, the male crewmembers reportedly held a vote to update the "rape list," stored on the submarine's computer network. This "sexually explicit" list is said to have contained the names of every woman on board, ranked by a star system, their physical descriptions, and descriptions of "various sexual acts the creators of the list wish to perform with them." These included "aggressive sexual activity," but did not outright mention "non-consensual acts," the report said.
According to the publication, the boat's then-chief, Captain Gregory Kercher, was alerted when photos of two such lists were found last June. He tried to find the lists on board and even googled ways to do that but stopped short of opening a formal investigation into the incident and failed to notify his command. The superiors subsequently deemed his efforts "minimal actions," insufficient to address "an event of this magnitude," the report allegedly stated.
Furthermore, the submarine's captain reportedly discouraged investigators to discuss the list, telling one of them to "slow down" because he was getting "too involved." At one point, women concerned about the list were told to "suck it up and not add to the drama."
In August, Captain Gregory Kercher was relieved of his duties due to a loss of confidence in his ability to command. At least two sailors were also sacked, and an undisclosed number of crewmembers faced administrative punishment in connection with the "rape list."
Also on rt.com
US Navy ships & training bases exposed as 'highest risk' in military sex assault report
The Navy's track record with sexual harassment is the worst in the military, with women at some naval installations facing a 17.1-percent risk of being sexually assaulted in the course of a year, according to a 2014 Pentagon study.
That same year, a scandal broke aboard another submarine, the USS Wyoming, when it was revealed that for a year a sailor had been filming his crewmates undressing and showering without their knowledge.
Subscribe to RT newsletter to get stories the mainstream media won't tell you.
You can share this story on social media: