'Cultural schizophrenia': Media shift to feelings over facts tearing US apart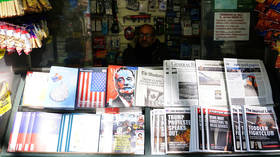 Over the past several decades, US news media have shifted towards advocacy and emotional appeals, according to a RAND Corporation study. This is sowing discord in American society, award-winning journalist Chris Hedges tells RT.
The study, released by RAND earlier this week, cautiously argues that between 1987 and 2017, news content has shifted from event- and context-based reporting to coverage that is "more subjective, relies more heavily on argumentation and advocacy, and includes more emotional appeals."
While prime-time cable news shows and online journalism lead the way in this shift, it has been noticed in print journalism as well, the government-funded think tank concluded. This is contributing to what RAND termed "Truth Decay," described as a shift away from facts and analysis in public discourse.
Also on rt.com
Why is the US always 'stumbling' or 'sliding' into war? How the media misleads with language
"Cable news networks – CNN, MSNBC, Fox – have given up on journalism," Hedges told RT, commenting on the RAND report. "They replaced it with reality-show news programs centered around [US President] Donald Trump and his tweets and the Russiagate. There has been a complete walking away from journalism."
The award-winning international correspondent for several major newspapers who now hosts On Contact, a weekly interview show on RT America, Hedges argued that the deterioration of the American media landscape is "far worse" than the RAND report suggests.
Also on rt.com
'5G ties uncovered': RT America's Rick Sanchez on what's behind NY Times hit piece
"Commercial structure that created the old media is gone and it has eviscerated journalism within the country, because it is not sustainable. We saw it with the collapse of the classified advertising, which was 40 percent of the newspapers' revenues. It is not sustainable economically anymore," Hedges said.
This has led to the demise of newspapers, both local broadsheets and major powerhouses like the Philadelphia Enquirer. Meanwhile, the internet media has created a "free-for-all space, where people are ghettoized into [groups] with particular belief systems or conspiracy theories they happen to have embraced or support."
It is difficult to tell apart facts and opinion now, and people believe whatever they want to believe, Hedges explained.
"We spent years watching CNN and MSNBC promoting this conspiracy theory that Trump was a Kremlin agent… It was all garbage but it attracted viewers."
When journalism is no longer based on facts, it becomes near impossible for the public to untangle what is true and what is false.
Also on rt.com
'No future for dissidents' on social media: Paul Joseph Watson reflects on Facebook ban
"It creates cultural schizophrenia," Hedges said, noting that he observed this during the collapse of Yugoslavia in the 1990s, when media drove antagonisms and hatreds between ethnic groups. Similar things are happening in the US right now, as "right-wing media are demonizing Bernie Sanders and Barack Obama by comparing them to Hitler and the left-wing media label all Trump supporters as racists and deplorables."
"It all creates societal fragmentation and discord," Hedges told RT. "These schisms could lead to civil unrest – that is what happens here."
Like this story? Share it with a friend!
You can share this story on social media: