Tulsi Gabbard would drop charges against Assange & Snowden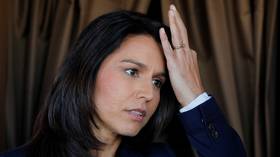 Democrat presidential hopeful Tulsi Gabbard (D-Hawaii) said she would drop all charges against Julian Assange and Edward Snowden, as their prosecution would have a "chilling effect" on free press and whistleblowers.
Appearing on the Joe Rogan Experience podcast on Monday, Gabbard said that conspiracy charges against the WikiLeaks co-founder were a "warning call" to all media and Americans in general that their freedom of expression was in danger.
"It was a kind of a warning call, saying 'Look what happened to this guy. It could happen to you.' It could happen to any one of us," Gabbard told Rogan.
Asked about NSA whistleblower Edward Snowden, the congresswoman from Hawaii recalled her shock when she read the revelations about NSA mass surveillance of Americans back in 2013, and brought up how Director of National Intelligence James Clapper "blatantly lied" to Congress about it.
"Yet he's somebody who you see on TV almost every day as an expert in this country, without any consequence, lying to the American people," she added.
Asked what she would do about Assange and Snowden if she were elected president, Gabbard replied she would drop all charges against them.
Rogan: You'd drop the charges?

Gabbard: Yeah.
Gabbard is running a long-shot campaign for the 2020 Democratic presidential nomination on a platform opposing foreign intervention and advocating reining in the intelligence agencies, among other things.
Assange was secretly indicted in March 2018 for conspiring to hack classified US documents back in 2010. The charges were made public in April, after the WikiLeaks publisher was hauled out of the Ecuadorian embassy in London, where he had sought asylum in 2012. At the time, Assange claimed that an investigation against him in Sweden was a pretext to have him extradited to the US – a claim that has since been vindicated.
Also on rt.com
Toe the line or go to jail: Tulsi Gabbard says Assange arrest is a message to Americans
Chelsea Manning, the US Army private who had provided WikiLeaks with the military and diplomatic documents, had just spent more than a month in jail for refusing to testify against Assange to a federal grand jury. Manning was convicted to 35 years in prison under the Espionage Act for the WikiLeaks revelations and spent seven years behind bars, until his sentence was commuted by President Barack Obama.
Snowden, a NSA contractor who blew the whistle on illegal mass surveillance of Americans in 2013, ended up seeking asylum in Russia, where he remains to this day. He faces charges under the Espionage Act if he were ever to return to the US.
Think your friends would be interested? Share this story!
You can share this story on social media: