Elizabeth Warren turns down invite from 'hate-for-profit racket' Fox News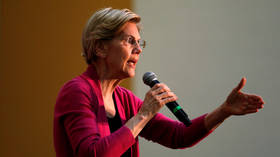 Despite the success Bernie Sanders had with a Fox News town hall, fellow 2020 Democrat contender Elizabeth Warren has rejected the network's invitation, accusing Fox of racism, bigotry and hate.
As election season excitement builds, the conservative-leaning cable network has been extending invites to Democratic candidates. Last month's hour-long town hall with Sanders (I-Vermont) was widely acclaimed, with the self-described socialist drawing loud cheers for his distinctly un-Fox brand of populism. Senator Kirsten Gillibrand (D-New York) and South Bend Mayor Pete Buttigieg are scheduled to hold similar events soon.
Not Elizabeth Warren, though. The Massachusetts senator outright rejected an invite from Fox on Tuesday, accusing the network of giving "a megaphone to racists and conspiracists."
Fox News is a hate-for-profit racket that gives a megaphone to racists and conspiracists—it's designed to turn us against each other, risking life and death consequences, to provide cover for the corruption that's rotting our government and hollowing out our middle class.

— Elizabeth Warren (@ewarren) May 14, 2019
"Fox News balances a mix of bigotry, racism, and outright lies with enough legit journalism to make the claim to advertisers that it's a reputable news outlet," she said in a Twitter rant. "I won't ask millions of Democratic primary voters to tune into an outlet that profits from racism and hate in order to see our candidates."
In a post on Instagram, the progressive legislator shared a petition to "stop the hate-for-profit Fox News racket."
Calls for censoring conservative media are ten a penny these days, but Warren could probably do with the exposure. Although one of the first Democrats to announce her candidacy at the beginning of the year, Warren's early entry to the race was overshadowed by the fallout of her publicly releasing the results of a DNA test – that showed only that she could possibly be as much as 1/1024 Native American.
After years of talking up her Indian heritage, Warren was ridiculed by internet commenters and by President Trump himself, who dubbed her "Pocahontas" and told journalists to "ask her psychiatrist" about her 2020 chances.
Warren never built up the momentum of her Democratic rivals, and the most optimistic recent poll puts her in fourth place at ten percent, trailing Sanders by 15 points and former vice-president Joe Biden by 23.
Also on rt.com
Trump thinks Dems' 'witch hunt' will hand him 2020 – and he could be right
Her refusal to appear on President Trump's favorite TV network comes after a series of leftward moves, from calling for Trump's impeachment last week, to announcing plans to forgive student loan debt last month.
Sanders, on the other hand, defended his decision to play ball with the conservative channel.
"To me, it is important to distinguish Fox News from the many millions of people who watch Fox News," he said. "I think it is important to talk to Trump supporters and explain to them to what degree he has betrayed the working class of this country and lied during his campaign."
Think your friends would be interested? Share this story!