Guaido asks US military for meeting to plan 'restoring democracy' in Venezuela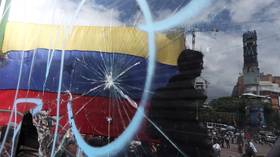 Officials loyal to the US-backed self-proclaimed president Juan Guaido have requested a meeting with US Southern Command to begin planning a military intervention in Venezuela, after multiple failed attempts to take power.
Guaido's ambassador to the US, Carlos Vecchio, published on Monday a letter he sent to SOUTHCOM requesting a "meeting with a technical delegation to advance in strategic and operational planning" in order to "restore democracy" in Venezuela.
#Venezuela: following instructions of Interim President @jguaido, we officially requested the @Southcom a meeting with a technical delegation to advance in strategic and operational planning with the priority goal of stopping our people's suffering and restoring democracy. pic.twitter.com/x3ckEn39cM

— CARLOS VECCHIO (@carlosvecchio) May 13, 2019
Vecchio's letter was swiftly condemned by the government in Caracas.
"We reject the letter by one of the coup leaders asking for military intervention in Venezuela, on behalf of a group of coup plotters who carry out terrorist activities to create confusion and destabilize our homeland," Vice-President Delcy Rodriguez said in an appearance on Venezuelan television.
The letter is dated May 11. Two days prior, SOUTHCOM tweeted out a statement by its commander, Admiral Craig Faller, saying "We stand ready!" to support Venezuelan military officers who are willing to side against the government in Caracas – and were only waiting for Guaido's invitation.
Earlier this month, Faller voiced the same sentiment to a congressional committee, urging Venezuelan officials currently loyal to President Nicolas Maduro to "do the right thing" and switch their allegiance to the US-backed opposition leader.
Though Vecchio's request was sent on Venezuelan embassy stationery, he does not actually have access to the embassy building in Washington, DC. After Maduro's government severed diplomatic ties with the US, it gave permission to a group of American activists calling themselves the "Embassy Protection Collective" to occupy the building in order to prevent it from falling into the hands of Guaido supporters. Attempts to force them out by cutting off food supplies, water and electricity have so far been unsuccessful.
Guaido, elected to chair the National Assembly last December, declared himself "interim president" in January, calling Maduro a dictator and usurper. Despite claiming to command the loyalty of most Venezuelans, all of Guaido's attempts to take over Miraflores Palace have ended in failure. The most recent stunt involved an attempted military takeover, but fizzled out within a few hours when only a handful of troops joined his cause.
Think your friends would be interested? Share this story!
You can share this story on social media: