Just like me: Trump compares Biden to his own early rise in GOP, hints at possible AG probe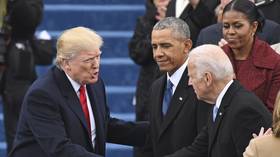 US President Donald Trump has bestowed what is possibly the highest tier of praise in Trumpian terms – comparison to himself – upon his 2020 rival Joe Biden. The rest of the Dem field got the usual derision.
Trump indicated in an interview to Politico that he does not consider anyone but Biden, a veteran in the ever-growing and extremely diverse Democratic field, a challenger in the 2020 presidential elections.
"I look at it like my race," Trump said. Relishing the memories from his own campaign, Trump said he emerged as a frontrunner in the Republican primary polls as soon as he jumped into the campaign in June 2015, or in Trump's own words, as he "came down the escalator" in Trump Tower following the announcement.
Also on rt.com
Biden's Ukraine ties: Nepotism and corruption or 'conservatives pounce'?
That is not exactly true, as Trump briefly trailed former Florida Gov. Jeb Bush in the first polls and was generally considered an underdog even within Republican ranks. However, he stunned the experts by taking the lead the following month.
Unlike Trump, Biden, who officially entered the Democratic primary race last month, was considered a favorite to capture the Democratic nomination long before he actually unveiled his bid. According to a recent Morning Consult poll, Biden has a commanding 21-percent lead over his closest rival, Bernie Sanders (who has 19 percent). The gap between Sanders and the rest of the pack is almost as large. Third place is occupied by Elizabeth Warren with just eight percent.
Trump said many of the Democratic presidential contenders seem out of touch with the public, pointing to Sanders as an example of a candidate who "seems to be going in the wrong direction."
The president also laughed off the chances of Pete Buttigieg, likening him to a fictitious character in Mad Magazine.
"Alfred E. Neuman cannot become president of the United States," he said.
Asked if he is going to push for a probe into Biden's role in the sacking of the Ukrainian prosecutor general who reportedly investigated the Ukrainian gas company which employed his son, Trump said that he did not discuss the issue with US Attorney General William Barr. At the same time, he did not rule out taking the possible conflict of interest up with Barr in the future as it "would be an appropriate thing to do."
Trump said that the media is soft on Biden because he is a Democrat, and that if he himself were in a similar situation, they would cut him no slack.
"Because he's a Democrat it's about 1/100 the size of the fact that if he were a Republican, it would be a lot bigger," Trump said. He added he would discuss the issue with his personal lawyer, Rudy Giuliani, who, per his own admission to the New York Times on Thursday, is going to Kiev to help push investigations into Ukraine's pro-Clinton meddling and the Biden family's dealings.
Think your friends would be interested? Share this story!