'ISIS with lipstick': Imam of Peace rips 'Islamist agenda' in Congress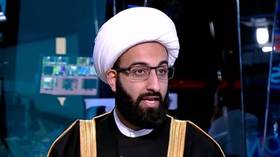 Bad leadership and propping up extremists are helping radicalize young Muslims in the West, "Imam of Peace" Mohamad Tawhidi told RT, not sparing the recently elected Congresswomen Ilhan Omar and Rashida Tlaib.
"When I first heard that two Muslim women were running for Congress, I was very happy, because I thought this was now the opportunity for Muslims to have a voice other than the voice of ISIS. But now we have the same situation, except with lipstick," Tawhidi said in an exclusive interview to RT America's In Question on Friday.
Omar (D-Minnesota) and Tlaib (D-Michigan) made national headlines in November, when they became first female Muslim members of the House of Representatives. Since then, they've stayed in the headlines due to controversy, such as Tlaib calling for President Donald Trump's impeachment in vulgar terms and Omar describing the 9/11 terrorist attacks as "some people did something" in a speech to the Council on American-Islamic Relations (CAIR) in April.
"This is not politics, they're driving an agenda," Tawhidi told RT. "They're not speaking about economy, they're not speaking about education. They're out there defending and fundraising for CAIR. Ilhan Omar is fundraising for CAIR!"
Also on rt.com
Twitter split in half over Omar again, after Trump posts clip of her 'downplaying' 9/11
He pointed out that CAIR was designated a terrorist organization by the United Arab Emirates – in 2014 – over its alleged ties to Muslim Brotherhood, which he called "the most organized [Islamist] terrorist organization on this planet." Trump is reportedly considering designating the Brotherhood as a terrorist organization, though no official announcement has been made.
Congress "should be a platform where elected members serve the citizens, not to push an Islamist agenda," Tawhidi said.
Leadership that promotes extremism and not moderation is primarily to blame for radicalization of young Muslims living in the West, he said. Asked about whether it's offensive to use the term "Islamic extremism," as Trump has been accused of, Tawhidi was categorical.
Of course it exists; who's killing everybody?
"There are Muslim victims of ISIS, and for other Muslims to say that Islamic extremism doesn't exist, that's an insult to Muslims, let alone the rest of the human population that have been victims of extremism," he said.
The Iranian-born Tawhidi is a Shia cleric and president of the Islamic Association of South Australia. He lives in Adelaide.
Think your friends would be interested? Share this story!
You can share this story on social media: