'War criminal': Outrage as Trump pardons former US soldier who killed Iraqi prisoner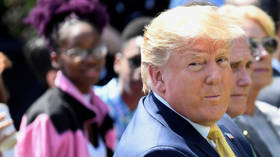 US President Donald Trump is facing heavy criticism for pardoning a former US soldier, once sentenced to 25 years in prison for murdering an Iraqi prisoner in 2009.
The White House announced on Monday that Trump signed an executive grant of clemency, a full pardon, for Michael Behenna. The 35-year-old was convicted and sentenced to 25 years in prison by a military court for the killing of an Iraqi prisoner suspected of being part of Al-Qaeda.
Behenna was ordered to release an innocent Iraqi man they had no evidence to holdBehenna instead:•dragged him under a bridge•stripped him naked•tortured him•shot him dead•set a grenade under his corpse to burn the body45 just pardoned him😐https://t.co/b3n5a2lGxj

— Qasim Rashid, Esq. (@QasimRashid) May 7, 2019
Trump just pardoned convicted murderer and war criminal! Here is the opening statement of the military prosecutor in the court-martial of Michael Behenna who was convicted of killing Iraqi citizen Ali Mansur Mohamed: https://t.co/07AbPdF1tXpic.twitter.com/1lcqjEaLAq

— Jamil Dakwar (@jdakwar) May 7, 2019
Trump pardoned Michael Behenna, who "dragged Ali Mansur [who had already been questioned and released by intelligence specialists] into the desert, stripped him naked, shot him in the head and chest, and then ordered a sergeant to burn the body."https://t.co/Czs9vcU4VWhttps://t.co/xQefLjQ7jD

— Polly Sigh (@dcpoll) May 7, 2019
Behenna's sentence was later reduced to 15 years by the army clemency and parole board. He was released as soon as he was eligible for parole in 2014 and ordered to remain on parole until 2024.
READ MORE: 'Our property now': (Most) US lawmakers rejoice over Assange arrest
Behanna shot and killed Ali Mansur Mohamed in 2008 after he took him to a railroad culvert for questioning without authorization, instead of taking him home as instructed. Behenna stripped and questioned the prisoner at gunpoint about a roadside bombing that killed two members of a platoon under his command.
Behenna claimed he shot Mansur in self defence after the prisoner moved towards him and the soldier thought he might reach for his weapon. Afterwards, Behenna didn't inform anyone of the killing, according to the Washington Post, and Iraqi police found Mansur's body the next day.
Not only does the presidential pardon free Behenna of the restrictions of parole for the next five years, it also clears his record of the conviction. In a statement, Sarah Sanders said Behenna's case "has attracted broad support from the military, Oklahoma elected officials, and the public."
"Behenna is entirely deserving of this Grant of Executive Clemency," Sanders wrote.
READ MORE: British student released from jail despite life sentence in UAE over spying for UK government
However Sanders' enthusiasm for the former "model prisoner" is not shared by human rights groups, including the ACLU who lambasted the president for pardoning a "convicted murderer and war criminal."
Many critics took to Twitter to share their dismay at the presidential pardon, and highlight particularly gruesome details pertaining to the killing and Behenna's subsequent statements.
Went through 4 yrs of ethics classes at West Point. Had a whole semester-long discussion on My Lai/Black Hearts in MX 400. I was taught that atrocities and murder in the name of America make us weak, make us the bad guys. So, I'm pretty damned confused about the Behenna pardon.

— Victoria Oropeza-Kositz (@evo_kositz) May 7, 2019
"Lieutenant Behenna told other soldiers after the killing that 'he would do it again, and he did not feel bad about it because he just lost two guys,' according to the filing." https://t.co/AhcVK2TCnk

— Maggie Haberman (@maggieNYT) May 7, 2019
iirc Behenna murdered the detainee because despite having zero evidence, he was convinced the guy had detonated an IED that killed soldiers in his platoon. So, basically, he murdered someone because he felt like it and Trump pardoned him to sate his base of nihilist racists

— Nate Bethea (@inthesedeserts) May 7, 2019
#Trump pardoned former U.S. Army Lieutenant Michael Behenna, who was imprisoned for five years for killing an Iraqi prisoner in 2008.Behenna, who stripped Ali Mansur naked for questioning and then shot him twice, claimed he was acting in self-defense. https://t.co/DFKfeI9XLm

— Randa HABIB (@RandaHabib) May 7, 2019
No president has wielded the pardon power more horribly — not to temper justice with mercy but to reward ghouls like Arpaio and Behenna and to tamper with witnesses like Manafort and Stone.@jorie_graham@Lawrence@RicPatterson@MaxBoot@BretStephensNYT@Kasparov63@anneapplebaumhttps://t.co/H0kTGDeVz8

— Laurence Tribe (@tribelaw) May 7, 2019
Behenna's case has been aided greatly thanks to family ties and legal expertise. His father is Scott Behenna, who has worked for both the FBI and Oklahoma State Bureau of Investigation. While his mother, Vicki Behenna, is an attorney and former longtime federal prosecutor in Oklahoma City, reports NPR.
Like this story? Share it with a friend!
You can share this story on social media: