'Snowflakes' or empowered youth? RT debates student uproar over George Washington mural (VIDEO)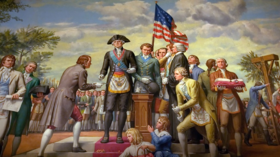 A California high school named after George Washington may remove a mural of the first US president amid complaints from students. RT panelists debated whether the students are role models or "virtue signaling" crybabies.
George Washington High School in San Francisco, California, is mulling whether to pull down an 83-year-old mural depicting the Founding Father, after some students claimed they were "traumatized" by the painting's representation of African slaves and Native Americans.
Legal and media analyst Lionel mocked the "virtue signaling social justice warriors" for being detached from reality.
Attorney and author Reese Everson took the opposite position, urging the students at George Washington High to "continue to stand up and speak out and let their voices be heard."
Watch the full debate below:
Like this story? Share it with a friend!
You can share this story on social media: