Poynter retracts list of 'unreliable news sources' after listed sites prove it unreliable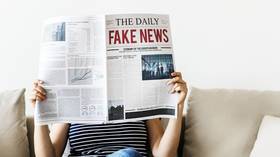 Journalism institute Poynter has retracted a lengthy list of supposedly unreliable news websites, saying the list itself was unreliable – a fact ironically brought to its attention by several of the outlets it calls untrustworthy.
"We regret that we failed to ensure that the data was rigorous before publication, and apologize for the confusion and agitation caused by its publication," Poynter's managing director, Barbara Allen, wrote after removing the list of over 500 entities from its website. Allen notably didn't apologize for compiling the list in the first place, and it is unlikely we've heard the last of Poynter's unreliability index, given that mainstream media gatekeepers have been trying to convince the public it needs an exalted class of media-whisperers to interpret the news for years.
Also on rt.com
Who checks the fact-checkers? Facebook leaves verification to groups funded by Soros, US Congress
Before deleting entirely, Poynter apologized to the Washington Examiner and FirstPost, two of several sites included on the blacklist which politely enquired as to why they'd been included. Baybars Orsek, director of the International Fact-Checking Network at Poynter Institute, even told the Examiner that "the total number of complaints is less than 2 percent of the whole database." By Thursday night, however, the page had vanished, and "inconsistencies between the findings of the original databases… and our own rendering" were blamed, with a promise that a "more consistent and rigorous set of criteria" was on its way. We can hardly wait!
RT made the list ("unreliable"), hardly a surprise given the notable bias of neocon-affiliated "fact-checkers" like the folks at NewsGuard, but the other 515 sites included a few surprises. In addition to about 30 well-known conservative outlets like the Daily Caller ("bias," "clickbait") and Drudge Report ("bias"), popular progressive pages like Common Dreams ("clickbait") and Activist Post ("conspiracy," "unreliable") are listed side by side with apolitical platforms like Liveleak ("fake"). The list included sites that do not hide the fact that their articles are fake, as they are satire outlets, like Clickhole, Reductress, and SatireWire (and no, the Onion didn't make it). The list appears to be a PropOrNot-style 'wrongthink'-tracker designed to tar legitimate dissent and other inconvenient voices with the 'fake news' brush.
Poynter apparently doesn't think much of its audience's intelligence, as the list included "satire" among the otherwise somewhat interchangeable terms it used to smear sites: "bias," "unreliable," "fake," "clickbait," and "conspiracy." Never mind that their definition of 'clickbait' would condemn most of the internet ("sources that provide generally credible content, but use exaggerated, misleading, or questionable headlines, social media descriptions, and/or images"). Blacklisting satire because you assume readers are too dim to "get it" enshrines the lowest common denominator in the driver's seat.
The blacklist was supposedly "built from pre-existing databases compiled by journalists, fact-checkers and researchers around the country," though Poynter admits that more than half the domains in those databases were no longer active as of November 2018. Most of the data came from OpenSources, a database run by Merrimack University's Melissa Zimdars, whose academic work, as Breitbart ("bias, unreliable") noted, centers almost exclusively on obesity (Watching Our Weights: The Consequences and Contradictions of Televising Fatness in the 'Obesity Epidemic'), despite her self-styled credentials as a 'fake news' analyst.
Also on rt.com
US mainstream media worships superficial 'diversity,' but diversity of thought is forbidden
The absence of any mainstream voices from the list despite numerous instances of fake stories parading across their pages just in recent months (Covington Catholic students harassing peaceful protesters, the hate crime against Jussie Smollett, Maduro's government burning humanitarian aid, Donald Trump's campaign colluding with the Russians) says all that is necessary about the real purpose of Poynter's list, which is less about protecting readers from fake news than protecting readers from dissenting views.
Helen Buyniski
If you like this story, share it with a friend!
You can share this story on social media: