7 shot, 1 fatally near Baptist church in Baltimore, gunman on the run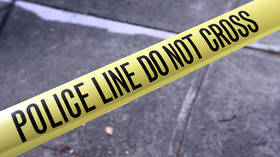 Seven people have been shot, one of them fatally, near Perkins Square Baptist Church in Baltimore, Maryland, police say. The attacker is reportedly on the run. The shooting doesn't seem to be connected with the church itself.
A gunman opened fire indiscriminately at a crowd of people on Sunday in what authorities called an "extremely targeted" shooting. Police have confirmed that one of the seven victims has died. Another possible victim, a man with a leg injury, was hospitalized, according to the Baltimore Sun.
The shooting took place near two cookouts located on opposite sides of the street, the police reported. Police Commissioner Michael Harrison confirmed that the gunman opened fire once he approached one of the cookouts.
Cont: The crime scene has been taped off and an investigation is underway. Officers are continuing to search for any additional gunshot victims. pic.twitter.com/1OSEuD56tT

— Citizen Baltimore (@CitizenBmore) April 28, 2019
The body of the slain victim was recovered about a block behind the church, according to Acting Mayor Jack Young. The shooting was not connected with the church itself, he stressed.
Shell casings were reportedly found at two different locations at the scene. Harrison said it appears that someone on the scene returned fire in an apparent bid to stop the attacker.
Want to clarify something. While initial reports and myself put the shooting near a church, and it still is, police activity and evidence markers are centered around a barber shop on the opposite side of the block. Officers also going door-to-door. pic.twitter.com/55sqTdR0wg

— Phil Davis (@PDavis_LLC) April 28, 2019
Police said the suspect, who is still at large, is an unidentified black man, Baltimore Sun correspondent Phil Davis tweeted from the scene. No motive has been established so far.
Today's shooting was NOT committed by a white man, Baltimore police say it was a black man who opened fire at a crowd indiscriminately.Seeing multiple rumors with false info. Please do not perpetuate them.

— Phil Davis (@PDavis_LLC) April 28, 2019
Baltimore is one of the poorest and most violent major cities in the US, with over 300 homicides reported annually in the previous two years. The current spike in violent crime, which is fueled by illegal firearms and gang activity, was first recorded in 2015.
The shooting comes just a day after a gunman stormed in synagogue in Poway, not far from San Diego, California, in an apparent anti-Semitic attack. The name of the suspect, John Earnest, has been tentatively linked to a hate-filled manifesto that appeared online before the attack.
Think your friends would be interested? Share this story!
You can share this story on social media: