California synagogue gunman possible suspect in mosque arson, linked to Christchurch-style manifesto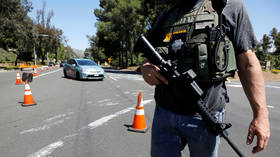 John T. Earnest has been named as the gunman who opened fire on worshipers inside the Chabad of Poway synagogue, killing one woman. He reportedly cited the New Zealand mosque attack as his inspiration.
The man behind the deadly rampage on Saturday afternoon that left one person dead and three injured has been identified as John T. Earnest, a 19-year-old white male from San Diego, Sheriff Bill Gore said.
Also on rt.com
1 killed, 3 injured as gunman opens fire at California synagogue
Gore said that Earnest is not known to have any previous criminal record. The sheriff added that apart from going through the trail of digital evidence left by the attacker, police will also search his car and residence. They are also looking into a possible link between the suspect and a mosque fire in Escondido, which is just a 20-minute drive from Poway.
Both President Donald Trump and Poway Mayor Steve Vaus denounced the attack as an apparent hate crime.
A manifesto, which some believe was penned by the attacker and published shortly before he went on a shooting spree inside the temple on Saturday, has been circulated on social media. Gore acknowledged that police have been combing through the suspect's social media posts and an "open letter" he allegedly wrote in the run-up to the attack, but said that officers have yet to prove the authenticity of the purported evidence.
"We have copies of his social media posts and his 'open letter' and will be reviewing those to determine the legitimacy of it and exactly how it plays into the investigation," he said.
The eight-page document, which has since been reviewed by several media outlets, bears striking similarities to the manifesto attributed to the Christchurch mosque attacker, and cites him as an inspiration. The manifesto is written in the form of a questionnaire with the author answering his own questions about ideology, and his attitude to religion and terrorism.
Filled with anti-Semitic slurs and racist rants, the manifesto blames "Jewry" for "sealing the doom" of the European race. The author, who introduces himself as a "man of European ancestry" and "a descendant of one of the original colonists," says that although he as an "individual" may kill only a small number of Jews, he hopes that his grim act would inspire others "to take a stand."
In the manifesto, Earnest reportedly admits setting a nearby mosque on fire a month before. The mosque was defaced with spray-painted graffiti making reference to the New Zealand attack. Police told NBC they are now working to confirm if Earnest might have been behind the arson, which did not lead to any casualties and caused only minor damage.
Earnest allegedly wrote on Reddit that he was planning to stream his shooting live on Facebook, but the plans reportedly fell apart after Facebook froze his account.
Think your friends would be interested? Share this story!