Navy SEAL's alleged war crimes a product of US 'war culture' – Jesse Ventura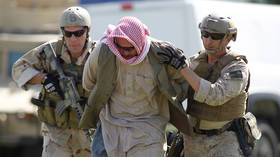 The atrocities allegedly committed by Navy SEAL Edward Gallagher are the product of a nation fighting unjust wars and a society steeped in "war culture," former governor and Vietnam veteran Jesse Ventura told RT.
Gallagher, a highly decorated platoon chief, is currently sitting in pretrial detention at a naval base in San Diego. He is accused of committing multiple atrocities, including murder, in Iraq.
Gallagher's story was recently thrust into the spotlight after a group of SEAL commandos who tried to report Gallagher's behavior claimed they were repeatedly told by higher-ups to "stop talking about it."
Also on rt.com
'Stop talking about it': Navy SEALs say they were warned against reporting chief for war crimes
Jesse Ventura, a former member of a Navy Underwater Demolition Team during the Vietnam war, told RT that his fellow SEALs' decision to try and turn Gallagher in was an honorable one.
"It's something that each and every soldier, sailor, marine and airman would have to judge for themself," he said. "Because it falls under something called honor."
Gallagher faces more than a dozen charges, including premeditated murder and attempted murder. His alleged crimes include indiscriminately raking civilian neighborhoods with machine-gun fire, opening fire on civilians without provocation and summarily executing a captured, teenage Islamic State (IS, formerly ISIS/ISIL) fighter who was undergoing medical treatment by US medics, by stabbing him repeatedly with a custom-made knife and hatchet.
Ventura was not surprised that Gallagher ended up in the military, describing the armed forces as "the perfect place for a sociopath to go."
Also on rt.com
Pentagon ready to 'admit problem' of rampant Special Forces crimes – report
The former Minnesota governor blamed incidents of abuse like those allegedly committed by Gallagher on his country's "war culture."
"Take a look at the ads on TV. They make war look like an exciting video game. These ads on TV right now to try to get people to join the military are so pro-war it's horrifying."
Voting for anti-war candidates would help end the cycle of state-sponsored violence, Ventura said, but the choice is not always there for voters.
"The best way is voting, but you can't vote for a Democrat either because they're on board with it too. Until we start leaving this war culture...it is a recipe for disaster."
Like this story? Share it with a friend!
You can share this story on social media: