'We'll go to the max': House Democrat threatens jail for Trump officials refusing to testify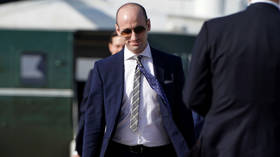 A member of the House Oversight Committee has warned Trump administration officials stalling on congressional subpoenas that they might face jail if they keep "assaulting" the legislature at the president's behest.
Rep. Gerry Connolly (D-Va.), a member of the House Oversight and Reform Committee, told CNN's Wolf Blitzer on Thursday that Democrats are prepared to go to great lengths to get a hold of Trump officials who have been reluctant to go before the committee so far.
"We're going to resist, and if a subpoena is issued and you're told you must testify, we will back that up," Connolly said.
Also on rt.com
Enough is enough? Trump opposes aides testifying to Congress in post-Mueller probes
To compel Trump officials to testify, Democrats are ready to slap them with fines or even hand out real jail terms, Connolly said.
"And we will use any and all power in our command to make sure it's backed up – whether that's a contempt citation, whether that's going to court and getting that citation enforced, whether it's fines, whether it's possible incarceration," Connolly said, vowing to "go to the max" to stop what he called "an assault on the legislative branch of our government."
The committee wants to hear from Stephen Miller, known as the architect of Trump's hardline immigration policy; Carl Kline, a former Executive Office official who approved Jared Kushner's security clearance despite staffers' concerns; and John Gore, a top Justice Department official who was subpoenaed to testify on the issue of adding a question about citizenship to the US census.
READ MORE: Mueller was supposed to be the Democrats' savior, but now they're out for blood
All three have defied the requests. Responding to a request for Miller to testify, the White House said that it was a common practice for immediate advisers to the president to be immune from testimonial requests, suggesting that other executive branch officials might come forward instead.
A counsel for Kline, who still works in the administration but in another capacity, said that he was advised not to appear. "With two masters from two equal branches of government, we will follow the instructions of the one that employs him," Kline's attorney said in a letter to the committee's chairman, Elijah Cummings (D-Md), earlier this week.
The Department of Justice said on Wednesday that Gore would not return the request either unless his counsel is present, a demand which the Democrats have rejected outright.
Separately, the White House is fighting a subpoena for the former White House counsel Don McGahn to testify before the House Judiciary Committee over allegations that Trump obstructed justice during the Mueller probe, that turned up no evidence of collusion and left it to Congress to decide whether Trump impeded the course of the investigation.
While Democrats have denounced Washington for its lack of transparency, Trump argues that the avalanche of subpoenas is another politically motivated attempt by the Democrats to disrupt his presidency and gain free political points.
"The Democrats are trying to win 2020. The only way they can luck out is by constantly going after me on nonsense," Trump fired back on Wednesday.
Think your friends would be interested? Share this story!