AOC slams 'older male GOP member'… who is actually a Democrat working with her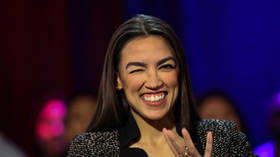 Alexandria Ocasio-Cortez is in hot water after she attacked a "Republican" congressman for posing with a picture of her – only to learn he was not only a Democrat, but one of her colleagues in the House.
"GOP: Let's pose our older male members next to cardboard cutouts of young female legislators," Ocasio-Cortez tweeted sarcastically, linking to a tweet from the Kentucky GOP that showed Rep. John Yarmuth (D-KY) smiling next to a cutout of herself. Yarmouth is House budget chairman. The same 'House' where Ocasio-Cortez works.
Yarmuth is even a member of the Congressional Progressive Caucus, which Ocasio-Cortez belongs to. She must have seen him last week, when she voted with the rest of the Caucus to block the budget he proposed. While Yarmuth's budget – a compromise with the House Democratic Caucus – increased defense spending to $733 billion, the highest military budget in American history even adjusting for inflation, in return for a larger bump in domestic spending, the progressives demanded an equal dollar amount for domestic programs, either by raising the domestic budget or slashing the defense budget.
Ocasio-Cortez deleted the tweet, but it was too late. Perhaps she had been confused by the "GOP" in the account's name, or had assumed Kentucky was full of rednecks and Mitch McConnells – but whatever the reason, Twitter exploded in mockery.
Some tried to reason she'd done it on purpose.
Others patiently offered Ocasio-Cortez some advice.
Yarmuth himself even weighed in, wowing his constituents with his classy response – a rarity in Washington.
Ocasio-Cortez has been publicly mocked before for her apparent cluelessness on matters of government. After she was elected in November, she called for Democrats to take back "all three chambers of government: the presidency, the Senate, and the House" – having apparently forgotten that there are two chambers of Congress and three branches of government in the US. She has also said unemployment was low because people had two jobs and declared the world would end in 12 years if the government did not "address climate change." Media mockery of her gaffes, however, rarely dampens her spirits – though she did announce earlier this month she was quitting Facebook, calling social media a "public health risk."
Also on rt.com
AOC accused of using 'verbal blackface' during speech to black audience
If you like this story, share it with a friend!