New York opens probe into Facebook's hoarding of 1.5mn users' email address books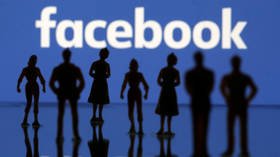 New York Attorney General Letitia James is opening an investigation into Facebook's "unintentional" upload of up to 1.5 million users' contact lists, vowing to hold it accountable for its cavalier attitude toward user privacy.
"It is time Facebook is held accountable for how it handles consumers' personal information," James said in a statement, claiming the social media company "has repeatedly demonstrated a lack of respect for consumers' information while at the same time profiting from mining that data."
Also on rt.com
Want a new Facebook account? Just hand over your private email password
Facebook admitted last week that it "unintentionally uploaded" 1.5 million new users' email address books since 2016, potentially slurping up hundreds of millions of people's contact information – including non-Facebook users – which was then used for targeted advertising and to suggest potential "friends" based on email connections. The platform gained access to the contacts by asking users for their email passwords after they clicked on a link to verify their account, but did not ask the users before hoovering up their contact lists.
Facebook claims it is deleting the offending address book data and says it has notified people who had their contacts copied. It says the contacts were not shared with anyone.
New York is one of several states currently investigating Facebook based on the March 2018 revelations that Cambridge Analytica used Facebook data scraped from millions of users without their consent to assist the Donald Trump presidential campaign. That investigation continues, while the Federal Trade Commission, which opened its own probe following the Cambridge Analytica revelations alleging violation of a 2011 "consent decree," is reportedly negotiating a settlement with Facebook. According to the company's first-quarter earnings report, Facebook expects to pay $3 to $5 billion in penalties – the largest FTC settlement ever for a tech company.
Also on rt.com
Facebook expects record $5 BILLION fine from FTC over privacy violations
The company has been plagued with non-stop scandals since Cambridge Analytica, with users learning last month hundreds of millions of passwords had sat, unencrypted, on an internal server for the past seven years and reports from ex-employee whistleblowers accusing the site of "de-boosting" conservative political content. Facebook has responded to users' worries about privacy by hiring one of the authors of the notorious USA PATRIOT Act as its new general counsel.
Think your friends would be interested? Share this story!
You can share this story on social media: